The Decemberists to Release Double Live Album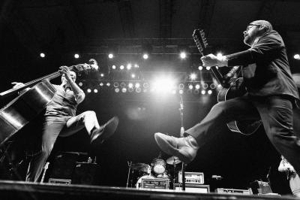 The Decemberists's 2011 tour was apparently so awesome that they recorded it for posterity. So, for all of you who couldn't make it to any of the band's shows last year, be sure to pick up their upcoming release—a double disc, triple vinyl, 20-track live album dropping on March 13.
Entitled We All Raise Our Voices To The Air (Live Songs 04.11-08.11), the live album was recorded over 12 different shows at legendary venues like the Ryman Auditorium in Nashville, Stubb's BBQ in Austin, and the McMenamins Edgefield Amphitheatre in their hometown of Portland.
The Decemberists toured last year in support of their Grammy-nominated LP The King Is Dead and performed songs spanning their entire first decade as a band.
Take a look at the tracklisting below:
We All Raise Our Voices To The Air (Live Songs 04.11-08.11)
Disc 1
1. The Infanta (5:15)
2. Calamity Song (3:57)
3. Rise To Me (4:55)
4. The Soldiering Life (3:58)
5. We Both Go Down Together (4:30)
6. The Bagman's Gambit (8:05)
7. Down By The Water (3:59)
8. Leslie Ann Levine(4:15)
9. The Rake's Song (3:34)
10. The Crane Wife 1, 2, and 3 (16:20)
Disc 2
1. Oceanside (3:15)
2. Billy Liar (6:33)
3. Grace Cathedral Hill (4:35)
4. All Arise! (4:30)
5. Rox In The Box (3:15)
6. June Hymn (4:20)
7. Dracula's Daughter > O Valencia! (5:49)
8. This Is Why We Fight (4:35)
9. The Mariner's Revenge Song (10:20)
10. I Was Meant For The Stage (10:00)
Got news tips for Paste? Email news@pastemagazine.com.
Others Tagged With