Yellow Ostrich's Alex Schaaf Reveals New Album Details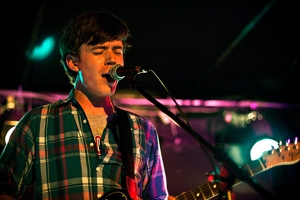 Alex Schaaf, the mastermind behind Yellow Ostrich, is back in his adopted hometown of New York City awaiting the release of Strange Land, the follow-up to The Mistress which featured one of the catchiest tracks of the year in "WHALE."
Due out on March 6, this album will be a departure from his past album. But Schaaf promises it's for the best. It was recorded in August and quickly mixed in September. The short process was due to many of the songs being tracked live with Schaaf joined by bandmates Jon Natchez and Michael Trapper to help make it a more collaborative sound.
"[I came up] with all of the basic chords, lyrics and melodies, but it became a band thing when I would bring in the demos and we would all flesh it out. The arrangements and the general vibes of all of the songs were done with the full group," Schaaf says.
One of those songs is "Marathon Runner." It's a song that features similar looping vocals at the beginning but soon develops into a heavier track with precise guitars and a driving rhythm that is expected to be the first single. And while the track has everything it takes to be a lead single, Schaaf feels that any of the songs on the album could have deserved the honor. "It's hard to tell what songs will catch on like something like that."
In all honesty, it is hard to tell which song fans will latch onto. Unlike The Mistress, which meshed together, the upcoming release departs from that style into a more expansive sound. He divulged, "It's gotten bigger and heavier with the whole band playing together instead of me just constructing something out of loops." Each song comes into its own and introduces a new idea in a way that he wasn't able to do when it was just himself recording at home.
Yellow Ostrich will also take the sound that Schaaf claims is "bigger than it ever has been" on tour this upcoming March. The trio will head to South By Southwest before swinging up the West Coast for a month-long stint. Schaaf believes that the precise dates of the entire tour will be announced early next week
Got news tips for Paste? Email news@pastemagazine.com.
Others Tagged With