Bright Moments: Natives
[Luaka Bop]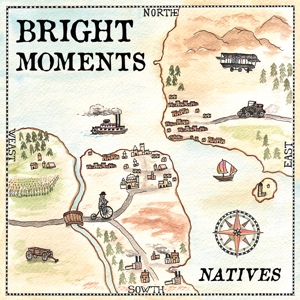 You might not know Kelly Pratt or his musical project Bright Moments' name, but you've heard his music. He's been a multi-instrumentalist for Beirut, Arcade Fire and LCD Soundsystem for the past couple of years and has been able to channel what he has learned with those bands into his very own album. Natives is an airy album complete with synths, accordions and horns that make it enchanting to listen to. Pratt presents each part of the song in a very unassuming manner that provides a compact sound and shies away from a robustness that the album could have easily headed towards.
Out of all of the songs, it is "Drifters" that is one the album's brightest moments. If any song were a ballad, it would be this one tucked away in the middle of the album. The majority of the album relies on that airy feeling set up from the very first note on the very first song, but "Drifters" has a heavier connotation that allows Pratt a certain sense of diversity most albums lack now.
At times the album approaches the realm of an epic much like Explosions in the Sky and Arcade Fire are able to easily produce, but because of the compact feeling of the songs, the approach falls short at times. This takes away from a lot of the majestic moments Natives provides throughout the 10-song journey. There are details on the album, like flying bats on "Milwaukee" or water splashing in a bathtub on "Traveling Light," that add a intricate layer to the production, but don't propel the songs to the next level that they are trying to reach. Somewhere along the way it's as if Pratt spent too much time in his own head, tweaking every little bit when he should have gone with his instincts.
Others Tagged With