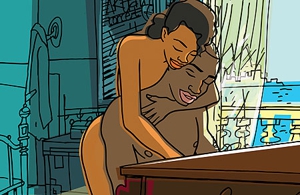 The one animated feature nominated for an Academy Award this year that does not center on an animal and is decidedly not for kids is Chico & Rita, a Spanish-language collaboration between Fernando Trueba (whose Belle Epoque won a foreign-language Oscar in 1994) and the popular and acclaimed Spanish designer Javier Mariscal. Coarse language, nudity and a historical backdrop that appeals to the politically and culturally astute render this expressive film an anomaly in the category—expressly for adults. Unfortunately, its evocative setting—the evolution of Afro-Cuban jazz in Havana and New York—sets the stage for a rather slight romance.
Mariscal's line drawings—simple yet suggestive of vivid detail—evoke the vibrancy of 1948 Havana, a period when dive bars and exclusive nightclubs are witnessing the shift from music for dancing to music for listening. There are more notes, played faster, incorporating influences as unlikely as Igor Stravinsky. Pianist, band leader, composer and arranger Bebo Valdés breathes new life into these now-classic Latin and African rhythms with contemporary jazz musicians playing in the era's style. (Valdés himself faded from the scene when the Cuban Revolution put his mode of music out of fashion, only to be rediscovered decades later tickling the ivories in a Stockholm restaurant—a fate mirrored in Chico & Rita's storyline.)
The style attracts the interest of such jazz luminaries as Dizzy Gillespie, Thelonious Monk and Charlie Parker and moves to New York. Mariscal artfully depicts the City That Never Sleeps with surreal colors and abstract skylines when it exists only in a character's dreams and with a stunning monochrome palette when he finally arrives.
All of this music and culture, though, serves as a backdrop to the love story between the eponymous handsome country boy and voluptuous city girl with eyes the color of emeralds, a dress the color of sunshine and curves that undulate like Caribbean waves. A talented pianist and singer, the couple's shared passion for performance sparks onstage despite a contentious introduction. This push and pull between physical chemistry and romantic and artistic jealousy characterizes their relationship throughout their lives, as music takes first her, then him, from Havana to New York to Las Vegas, Hollywood and Paris. Like the boleros (Latin ballads) on which it's based, theirs is a doomed romance as they're betrayed both by one another and by others.
This plot isn't particularly original, nor are the characters especially compelling, as they behave in stereotypical, rather than surprising, ways. He's womanizing and weak, envious of his girlfriend's success and suspicious of her motives, while she allows herself to get drawn into a degrading cat fight. What are rich and sensuous, though, are the visuals by Mariscal and the music by Valdés—aesthetic homages to an era whose cultural influence is still felt today.
Others Tagged With