Delocated Review: "Midnight Munchingtons" (Episode 3.03)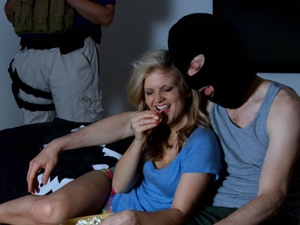 In which Jon creates a cooking show Hugh Acheson and Richard Blais could never win.
Like Sleep Jon and Awake Jon, there are, in truth, two Delocateds — the sober Delocated and the drunken Delocated. I was sober as a Judd the first time I watched "Midnight Munchingtons", and the total absence of the Mirminsky family stuck out like a sore Judd. Two shots of Bulleit and a Dogfish Head Tweason'Ale later and I fully accepted the all-comedy, no-pathos "Munchingtons" into my Delocated-loving (and gluten allergic) heart. Sergei and Yvgeny Mirminsky might rend Delocated's absurd hilarity into sincere emotional impact, but "Munchingtons" confirms that their presence is not mandatory to a worthwhile episode.
At first Sleep Jon's "nocturnal cooking syndrome" seems to strain a bit too much for laughs. It also made me think of Stepbrothers, which had a similar beat. Jon's sleep-cooking isn't a punchline, though, but a setup to both the "Midnight Munchingtons" cooking show parody and Jon's latest ill-fated romantic relationship with an attractive blonde named Marlo (MadTV's Arden Myrin). Both storylines are infused with patented Delocated ridiculousness.
So Jon cooks gourmet food in his sleep, before having sleep threesomes with pillows that represent his dead ex-wife Susan and his network boss Susan Shapiro (Janeane Garofalo). Initially Jon and his bodyguard TB (Ali Farahnakian) assume the dirty dishes come from Mirminsky agents who parachute into Jon's loft and cook nice meals at night as a "the call's coming from inside the house" style threat. A night-vision camera stake-out by TB and life coach The Glaze (Marc Wootton) reveals that it's Jon cooking the food and not a Russian hit-man paratrooper. That leads to Jon's new show "Midnight Munchingtons" (named after what TB and his colleagues at Guantanamo called a midnight snack) and the love affair with audience member Marlo.
That love dies quick when Marlo realizes what a cad Jon is when he's awake. (Seriously, if Dad Boner isn't actually Jon Glaser, then it's clearly somebody familiar with his work.) Marlo loves Sleep Jon but can't stand Awake Jon, leading to a painful emotional schism in Jon's everyday life. That pain eventually influences Sleep Jon's recipes, as his final dish, a marzipan lo mein borscht with a glaze, references every extreme outside influence tugging at his life, from Marlo and the Glaze to the Mirminskys and the Wang Chos. That final dish doesn't just lay bare the soul of Jon (both Sleep and Awake varietals), but leads directly to the end of both his cooking show and his relationship with Marlo. At least we got another fantastic Delocated song out of it, a yacht rock-y number about the travails of sleep dating.
Speaking of the Wang Chos, they appeared throughout the episode in a running joke about their protection services. They're bleeding Jon dry by upgrading him from Goldfish level to Dragon and then Super Dragon level. Jon's ostensibly paying for "perksy-werksies" like, um, the sorts of massages you might stereotypically expect from a Chinese massage parlor, but Qi-Qang (Yung-I Chang) uses that extra money to build special flagellation and execution chambers for the Wang Chos. They're exploiting Jon's idiocy and paranoia over the Mirminskys to fund the expansion of their own criminal enterprises. More importantly they're perpetuating the role established by the Mirminskys as the serious dramatic presence whose dramatic seriousness turns hilarious when refracted by the non-sensical prism that is Jon.
And once again that's the strength of Delocated. Supporting characters like the Glaze and TB can occasionally participate in complete ridiculousness, but Jon is such a hopelessly cartoonish buffoon that his very presence can turn even the most violent or frightening situation into comedic gold. Jon's extreme idiocy and the jarring seriousness of Sergei Mirminsky are vital counterweights to one another, and when successfully balanced they guarantee that Delocated will be one of the more powerful shows on television, whether I've been drinking or not.
Others Tagged With