How I Met Your Mother Review: "Karma" (Episode 7.18)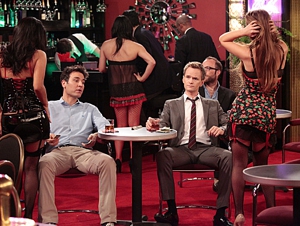 This season of How I Met Your Mother has been consistently better than the previous few ones and has harkened back to the highs of the first handful of seasons. The past three weeks have put the vulnerability of Ted, Robin, Marshall, Lily and Barney at an all-time high, and the series is shifting to its ultimate dénouement.
There are only six more episodes for the current (seventh) season, and the series only officially has one more season left unless it gets renewed for another season. While it's likely it will be renewed, creators Craig Thomas and Carter Bays have toyed with fans, implying that we will meet Ted's wife very soon.
After last week's episode where Robin moved out to let Ted move on with his life, I was certain this week's "Karma" would be a slapstick affair to lighten the mood. Well, it wasn't. The writers have continued to pursue the hearts of the viewers and leave us with serious revelations that will have a dramatic effect on the remainder of the gang's lives.
A few weeks ago I discussed that Barney was starting to mature, albeit slowly, and was ready to settle down. This episode focused on his pursuit of Quinn, who happens to go by Karma while stripping at a club Barney frequents. At first it looks like he'll regress to his normal behavior and the episode seemed to be throwing his storyline away to focus on Ted and Robin, but then it turns out it was a very poignant step in the right direction for Barney. By the end of the episode it looks like Barney and Quinn might happen. Either it will be a story arc to bring Barney and Robin closer, or maybe Barney will marry a stripper. To be honest, I hate that Barney/stripper love story. I really want it to be a plot that propels him towards Robin. I really, really do. It's not a big hindrance, but if she's still on the show by the season finale it will be a blow to how I perceive the writers' brilliant arc for this season.
While Barney is off at a strip club, the rest of the characters are the meat of the episode. Ted is struggling to figure out what to do with Robin's old room. It hasn't been empty since he moved to the city and he tries to fill the emptiness, both of the room and in his heart, by a plethora of activities. It was nice seeing him talk to his subconscious in the form of Robin throughout the episode. He's in the middle of an internal struggle, and he really needs to focus on himself right now. When he professed his love for Robin again a few weeks ago I think we were all afraid of the show going down that rabbit hole for the umpteenth time, but the writers did a good job of finally closing that chapter, and this episode really sends Ted in the right direction.
He's able to head in the right direction because Robin is spending time on Long Island with Marshall and Lily, who seem to be loving life so far from the city and are trying to lure Robin to live with them. It's fairly obvious from the beginning that they are miserable and lonely. The episode deflects attention from their desolation and focuses on Robin growing weary of their antics. It seems like a simple ploy to put the trio in a particularly funny spoof, but in the end it all pays off.
For the third straight week, the last few minutes are gripping and left me immediately wanting more. Ted, in another grand gesture, leaves his apartment to move to his house in the suburbs and offers his old apartment to Marshall and Lily and tells them to make the extra room into their nursery. It's a cute gesture, and will put a unique twist on the upcoming episodes. It will be interesting to see how the couple's lives shift back to the city and eventually back to Long Island (flash fowards show them living in their house). This will also give us a chance to see Ted refocus on his quest for a wife and renovating his suburban house.
This week's episode was one of the biggest stepping stones we've seen in a really long time. The next six episodes will be an emotional rollercoaster and will hopefully bring us closer to figuring out who Barney and Ted's brides will be.
Others Tagged With