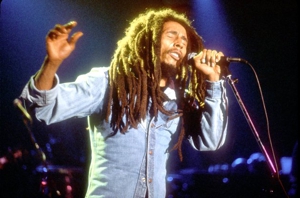 It's not entirely clear why director Kevin Macdonald decided to make a documentary about the musician Bob Marley, a cultural icon whose life has been recounted countless times through a variety of mediums. Macdonald claims it's because he wants to understand why Marley continues to speak to legions of fans around the world. Whatever his reasons, he's clearly up to the task. Marley offers an expansive and at times fascinating perspective on the man through interviews with his fellow former Wailers, family, and childhood friends. The film is fairly detailed concerning Marley's songwriting and musicianship from his early ska days up through the release of Catch a Fire. After this, however, it skips through his catalogue, choosing to focus more on his personal life, conversion to Rastafarianism, the tumultuous state of Jamaican politics, and his prolific womanizing—all of which are important elements of the artist's character. This makes for an interesting journey, although music geeks will surely miss the behind-the-scenes insight about classic albums and songs that might have appeared.
Marley, which is beautifully shot for a documentary (the Jamaican locations help immensely), begins not in the Caribbean, but in West Africa. In the opening scene, the camera travels through an old slave trading port, where a door with the words "Door of no return" stands, a remnant of horrible times past. This fades into live footage from the 1970s of Marley performing the song "Exodus." Vintage concert performances are peppered liberally throughout the film, showcasing Marley as a whirling dervish of spinning, sweaty dreadlocks, possessed of an energy that feels boundless. The son of a black mother and white father, Marley initially struggled to find his place in the Trench Town neighborhood of Kingston, but things clicked when he met Bunny Wailer, who is interviewed wearing amazing and bizarre military-style Rasta gear, and the late Peter Tosh. Despite their early success, there was tension between the Wailers—Bunny explains that no one wanted to be a "yes man" to the others. Eventually, Marley split, and the rest is history.
Marley's personal life was tumultuous, to say the least, and the film's interviewees are happy to talk about it. He married Rita Marley (a member of the I Threes, his trio of backup singers), but he was a notorious ladies' man, fathering 11 kids by seven different women. (Rita doesn't seem terribly upset about this.) He was friends with unsavory elements from both political parties in Jamaica who appear in the film, and was even shot and wounded before performing at the Smile Jamaica unity concert in 1976. Even as he became an international superstar, Marley was frustrated with his inability to gain popularity and acceptance among the black American audience. Just when it seemed that he was poised to crack this demographic, he was stricken with cancer. He had actually been diagnosed with melanoma in 1977, but did not receive the proper treatment because of the bad advice of those in his inner circle, and as the film hints at, possibly because of his Rastafarian faith. (A verse in Leviticus warns against "cutting the flesh.") He sought treatment at a clinic in Germany but succumbed to cancer in 1981 at the age of 36.
At almost 2.5 hours long, Marley could definitely use some trimming—that's long for a feature film, let alone a documentary. But there's so much to say. Macdonald's documentary offers some intriguing insights into Marley's life through the variety of interviews he includes. Regarding his illness, Rita Marley claims that the "whiteness part of him" was the source of the cancer because melanoma is more commonly found in Caucasians. Island Records head Chris Blackwell, an important player in Marley's career and success, refers to him as a "black rock act." And the Wailers used to practice at the local cemetery in order to conquer their stage fright by singing for the "duppies," or evil spirits. It's details like this that make another exploration of a well-documented life worth the effort, especially when that life belongs to someone as profoundly interesting and influential as Bob Marley.
Director: Kevin Macdonald
Starring: Bob Marley, Bunny Wailer, Rita Marley
Release Date: Feb. 20, 2012
Others Tagged With