Former Luna Lounge Owner Talks New Book Wake Me When It's Over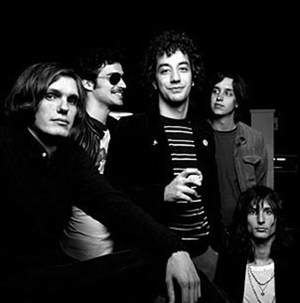 If you ask any Lester Bangs or Hunter S. Thompson wannabe to pick their favorite film, they're likely to express a fondness for Almost Famous. After all, who can blame them? Rock and roll, with its heartstrings rooted in jazz and in blues, is romantic.
Access to rock's most intimate experiences can seem distant, much like a fantasy. And Rob Sacher, author of Wake Me When It's Over, should know.
Sacher is the former owner of the prolific Luna Lounge, a bar in New York City's Lower East Side that once sat quaintly at 171 Ludlow Street. Although his book's title might suggest otherwise, Sacher is not writing from a dream state. Wake Me When It's Over is rich in first hand accounts to the music scene of the '90s.
When Luna opened its doors in 1995, the bar was a dreamland. The Luna Lounge became a home to artists like Interpol, Elliott Smith, The Strokes and Jody Porter.
We caught up with Rob to discuss his autobiography. The meat of the book is centered around Luna and the cultural and historical significance it created within New York's music scene in the last two decades. Brace yourself — he's a man of many beautiful, dreamlike stories.
Paste: What inspired you to write your story on the Luna Lounge?
Sacher: My whole life has been connected to nightclubs in New York. Luna is the one I'll probably be most remembered for even though Luna was just a moment in time. We happened to be there at the same time that other things were coming into alignment. We ended up doing a comedy show that featured Louis C. K., Jon Spencer, all these other comedians. It was really a cultural moment on the Lower East Side. Some of the bands that did their very first show's there were The Strokes, Interpol, Stellastarr and The National. Elliott Smith wrote an album at the bar, he wrote most of XO there, so it was just the right place and the right time and the right people were there.
I have a story to tell now about the different clubs I owned and co-owned and what happened to be in Luna Lounge and the people I worked with. So I put it all together and I realized there was an arc to my life, an arc to my story from one end to the other. I think I was able to put it together in a way that way that is more than a book about rock and roll stories. It's really more of a book about what it's like to spend your life connected to something that you absolutely love. In the writing of the book I found out why I did that and why I connected to music in the way that I did. I think that's what I tried to explain in the book.
Paste: I can see that. There is a quote from Albert Hammond Jr. in the book. He said: "The room was so beautifully lit. The bar was dark and the live room was darker, with a black light vibe radiating. Luna looked like a masterpiece, a square in the middle of the room, orange walls and a thing that was starting to happen, fans!" He also mentions they were going to play two new songs at the time – "Modern Age" and "Last Nite." I mean, those tracks are so iconic. Tell me about the intimacy of the lounge.
Sacher: I think you used the word perfectly when you said it's an intimate story, and I think that's the key word although I didn't use that word in the book. That might equal the sum total of what the book is about. Luna was always a personal experience because I was very selective about who I booked or more or less, who I allowed into my world. I knew from experience, from having worked with bands in the past who had become really iconic, I knew Joey Ramone really well. I worked with the Jesus and Mary Chain and the Psychedelic Furs. I knew Bjork from the Sugarcubes through the Mission (a pre-Luna club). We did a lot of parties with those bands. A lot of those people hung out at the bars, so I knew them well.
I knew when I opened up Luna I wasn't going to book seven bands a night. A lot of nights I only booked one or two bands because it was really important to me to establish the idea that this wasn't going to be a place that was a factory of rock music. It was going to be a place where you could come and see something that was relevant and maybe it was just in the baby stages of its development but there was something there. A possibility of greatness was there.
I think that's what Albert (Hammond Jr. of The Strokes) was referring to with his quote. When he walked in and when they connected to what I was doing, they were connecting to something I was trying to create that would give them the best possible experience they could have on stage. I was the sound engineer that night. I did sound four nights a week. It was very close. We really understood how to make a band sound as good as they could possibly sound and we knew what mistakes bands were making when they would first get up on stage.
One of the chapters on the book is about sound engineering and how to help bands learn what it is that they need to do. I remember giving lessons to many bands about what I was hearing on the other side of the room and from my experience what they needed to change so they would sound better. It was an intimate experience because we really, really cared. It wasn't just me but my partner really cared and the people who worked in the bar were really talented and caring people.
In fact, one of the bartenders was the first keyboard player in Interpol, the first year and a half they toured, Eric Altesleben. You could come into Luna Lounge and you could see Elliott Smith sitting at one end of the bar talking to J. Mascis of Dinosaur Jr. Marty Willson-Piper from The Church would be at the other end of the bar and he'd be talking to John Ashton from the Psychedelic Furs. Then you had some of the young guys in the middle of the bar bands like Asobi Seksu, and Longwave would be hanging out with Albert. You know, it was just like a Cheers for the rock and roll sec.
Paste: Yeah, it sounds like a Mecca, like everybody just decided to go. Through the book, you and fans alike can settle with these moments.
Sacher: I appreciate your interest in it because you know it's a DIY project. After I finished the book I approached a couple of agents and publishing companies about it but I didn't get a good vibe back from them. They basically told me to write a thesis about why people would be interested in the book before they considered it. I wrote them back, I said, "If you don't understand who I'm writing about and their significance, then you're not the right company for me."
I said, "I just think I'm better off doing it myself." I've always done it myself. Every club I've done, I've done myself and every promotion myself. I just put it out there and reach out to people and then people connect you know, and that's what a club is. A club is no more than four walls, a roof and a floor and then you find the people who connect to what it is you're offering. That's what makes it special. It's not that I'm doing anything all that special — it's really about what all those other people did in those four walls, roof and had a social connection to each other. And that's what I'm doing with the book.
Paste: These interlacing themes seem to better your art and your life — this idea to refuse to settle, to do it yourself. It appears the book is a continuation of that theme as well as what the lounge has protected in itself. "We can stand on our own, this is important" and people do want to hear about it, whether you feel it's commercial or not. So with Kickstarter, you have seven days left to meet the quota – tell us how that works.
Sacher: Kickstarter is a funding platform for creating projects. It's a yin-yang situation. They have a thousand projects a month and they only spotlight 12 of them. I'm just using their platform in order to bring all the people I can through my own promotion to make a pledge, and in exchange for the pledge they get a book. If they contribute more, they get their name in the book and a couple of records from this band called Hurricane Bells who are associated with my story, which is really cool.
The name of my book actually comes from the name of a Longwave song. In fact Steve Schiltz was the main singer/songwriter in Longwave. They're inactive now, but his new band is called Hurricane Bells and he's really helped me a lot to tell my story because part of my story is told through his experience. I put out Longwave's first record when I had a little record label associated with Luna Lounge, and they went on to become one of the best bands in New York. Then they went on to become really close with The Strokes and opened for them in Europe. Steve played in Albert Hammond Jr's band when he did his solo tour. Steve and Albert are very close and I'm very close with Steve, so Steve's story is apart of my story and we blend our stories together, especially in relation to The Strokes' story. It's all pretty clear in the book. When you read the book, my only request is that you read it from start to finish – my friends pick out the rock and roll stories and their stories (laughs.) But there is something to be learned about my life's story."
Paste: I think that's a fair request.
Sacher: Yeah, I have a friend named Jody Porter. Jody is in Fountains of Wayne, but he was also in a band called Bell Tower in the late '80s and '90s who were well known in England. Jody and I were invited to see Longwave and The Strokes about six weeks before The Strokes album was to be released in America. It had already been released in the U.K., but they've weren't well known in America. They were only playing these small venues in Philadelphia, so we went down from New York to Philadelphia. The show had just ended and the band Oasis walked in. They had come to see The Strokes but had just missed them because that night they were opening for The Black Crowes. They read about The Strokes and heard about them and when they walked in they saw Jody and we're like, "Jody Porter from England!" Jody's well known, though he's not super well known outside of the music business, he's very well known inside. A lot of guitarists know who he is. The rest of that story is in the book. Jody's a very close friend of mine, I gave him a copy of the book and called me back two days later and said, "I loved the book." And I said, "there's no way you could have read the whole book" and he said, "no I just read the parts about me." (laughs) It was funny and so true.
Paste: It seems there are so many characters throughout your life. It's only natural that they would all emerge and intertwine.
Sacher: They do, they really do. The novel actually stars earlier before I got into the club business. There are some stories that pre-date the club. I met Ray Davies one night, stories like that. I was 18 years old. I write a little about that moment.
Paste: The perspective of owning the club and seeing these people night after night, it's like greeting an old friend. That's what a bar becomes. It's just not to filter this debauchery, it's where friendships are established and relationships formed.
Sacher: Yeah, you get it. That's totally what the book is about. There are no sex and drug stories in the book. Not that there weren't stories I didn't write, but I didn't want to make them public. It's too obvious and also it wouldn't be fair to the people I think of as friends, even if I haven't seen them in 20 years. I wouldn't betray a trust. There was trust in that moment when it happened, whatever drugs we may have been doing or whatever you know, I'm not going to write about that. I try to explain what really matters, what was deeper.
To find out how you can get involved with Wake Me When It's Over you can go to Rob's Kickstarter page as well as his website.
You can purchase the book via Barnes & Noble and Amazon on March 1.
Got news tips for Paste? Email news@pastemagazine.com.
Others Tagged With