Sennheiser/Paste Party in Austin Preview: The Chain Gang of 1974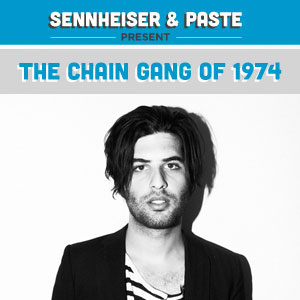 Sennheiser & Paste are teaming up for a three-day party during SXSW. Sennheiser & Paste Present the Stages on Sixth will feature 33 of our favorite bands in Austin, Texas, March 14 to 16. During the 33 days leading up to the event, we're previewing a different each day. We hope to see you in Austin—RSVP if you can make it. And don't worry if you can't; we'll be posting video of each performance.
Hometown: Los Angeles, Calif.
Members: Kamtin Mohager
Album: Wayward Fire
For Fans Of: New Order, LCD Soundsystem, Yeasayer
Make sure you've got your dancing shoes for a Chain Gang of 1974 appearance. The band, who is masterminded by Kamtin Mohager, brings a nostalgic, '80s-inspired dance party to stage. But that's not to say they're dependent on copying synth-lines and melodies from decades ago. The band's energetic stage presence, roaring guitars and pulsing, fresh rhythms should make for a nice alternative for broken-hearted LCD Soundsystem devotees.
Others Tagged With