Shameless Review "A Bottle of Jean Nate" (2.07)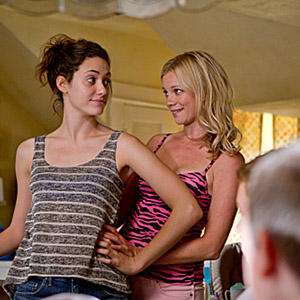 Last year, the creators of Shameless teased us with what looked like the beginning of a close friendship between Fiona and the party-crazy, adulterous Jasmine (Amy Smart). The storyline between the two, however, was progressing much too slowly until now. When she invites Fiona, Kev and V to a party on her boyfriend's yacht (unbeknownst to her boyfriend), Jasmine's true colors begin to emerge and we see that V's earlier concerns were valid. Jimmy, aka Steve, is also there with his new wife, and his attempts to get Fiona back just makes things worse. Jasmine, at first, consoles Fiona, telling her that she deserves someone better. The vibe abruptly changes when Jasmine gives an uncomfortable Fiona a passionate kiss and tells her she loves her.
The first season fooled me into thinking Fiona was this super girl standing heroic in the defense of her dysfunctional family. But, now, I see that she is ever bit as defenseless to her yearnings as the rest of the Gallaghers. I now like the character even more. Her brave face melts a little each episode. And Jasmine is the last person she should confide in, as Fiona finds out when Jasmine comes to the house the next morning to apologize while in the same breath suggesting they snort some cocaine. In just a few sentences we learn that Jasmine had been kicked out of her house two weeks earlier, had been living on her now ex-boyfriend's boat illegally, and is perfectly content with the idea of her husband raising the kids while she becomes a free and single woman. When she asks to stay at Fiona's house she is rebuked. She goes ballistic. "You just kick me out like Hal and David? Just a bunch of assholes!" But I got a feeling we'll be seeing more of her, maybe in a Fatal Attraction type of behavior. As she leaves, Jimmy shows up and just like Jasmine he tells Fiona he loves her. She slams the door in his face. You can also add "hypocritical" to the list of adjectives describing Fiona.
Meanwhile, Frank performs his sonly duties by taking care of Grams (Louise Fletcher). In spite of his hate for her, she has a strange hold on him. A scene of Frank giving her a bath and pampering her before putting her to bed is surprisingly touching. But when Carl almost blows up the house after Grams teaches him how to build a meth lab in the basement, Fiona agrees that she has to go—that is, until they discover she has terminal pancreatic cancer. We also get to see the senile Alibi owner Stan (Jack Carter) in the bath, and in nothing but a jock strap. Cutting edge stuff. After all, how many series present senior citizens, played by veteran actors, in nude scenes?
Another plotline primed to move is Karen's marriage and pregnancy. While she resigns herself to the latter, she begins to regret the former and kicks Jody out of the house. Lip is back in the picture, ready to take care of Karen and his future child. After a suggestion from Grams, Lip and Ian also make up with a fight to a draw. Through all of the bad times, and all of the family in-fighting the Gallaghers eventually stand together when threatened. Their love may be twisted, but it can never be denied.
Others Tagged With