Shameless Review "Can I Have a Mother" (2.06)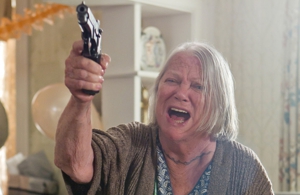 To live up to its reputation as fresh and inventive, Shameless continuously brings in new characters and new subplots. The downside is having to be patient while these multiple stories develop.
Last season, we briefly met the Gallagher family's grandmother, played by Louise Fletcher, who burst into cult status with her Oscar-winning role as wretched Nurse Ratched in One Flew Over the Cuckoo's Nest almost 40 years ago. But Ratched was a saint compared to Grandma, who shows up unannounced after being released from prison much earlier than expected. And her performance is every bit as good. She immediately bribes Carl and Debbie to assist her in finding money hidden in the house's walls. And she makes Frank drive her to see an ex-meth lab partner who owes her $200,000. Interrupting Frank as he brags on the kids that he rarely sees, she impatiently shouts "Shut up! This doesn't interest me." Even Sheila, who loves everyone, eventually calls her a "vicious bitch" with a "coochie that smells of brimstone and sulfur". Grandma's reply is to try and shoot Sheila at Karen's wedding party—award-winning work, especially for Fletcher, who deserves something else for her mantle.
Sheila's outbursts are good to see. I was getting tired of seeing her taken advantage of, first by her late husband and now Frank. So it wasn't surprising to see her kick Frank out of her life, too, after she saw his true colors. Frank is so easy to hate, but we see occasional glimmers of a decent guy. In spite of Grandma's declaration that it is not her fault that he's a loser, it's obvious that she helped. The expectations for an even more eventful show have shot up now that Grandma and Frank will be under the same roof. In the ultimate twist, Fiona gives the downtrodden Frank a beer and says "My parents suck, too."
As a new favorite character enters, another leaves. Kevin and V's overly religious, fundamentalist foster child Ethel learns from her "sister wives" that her elderly father has been murdered "in the American prison." I guess they don't consider themselves Americans? Kevin is freaking out because he thinks they'll take Ethel and her baby. So he suggests to V that they adopt both of them, something that would burden them financially. It's a touching moment when Ethel thanks Kevin for "everything" before she goes to bed. Big old bartender Kevin is one of the most compassionate characters in the series. The surprise comes when Ethel does leave in the middle of the night, but not with her sister wives. She and Malik are on a bus with both of their kids and cash in their pockets from the sale of Kevin's buried marijuana.
Fiona and Steve hook up again, sort of, after she learns he got married to escape the wrath of the girl's drug lord father. Later, Debbie finally tells Fiona that Steve is really Jimmy, a rich kid whose parents think he is going to the University of Michigan. Watching Fiona's slow drop into many of her father's unethical practices has been interesting as she demonstrates a lapse of the conscience she had last season.
Others Tagged With