The Civil Wars Talk Grammy Wins, Future Plans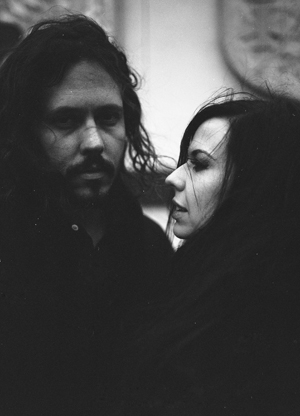 As previously reported, Paste "Best of What's Next" artists the Civil Wars took home two Grammys last Sunday for Best Country Duo/Group Performance and Best Folk Album. We caught up with the duo, John Paul White and Joy Williams, and producer Charlie Peacock to talk Grammys, what they mean to the group and what's in the future for the Civil Wars.
Paste: You looked like naturals performing on this huge TV broadcast. How did you prepare for the ceremony?
John Paul White: I have to admit, we both had the adrenaline pumping all day. I was wondering how I was going to dial it down without whiskey (the entire event was dry). Winning helped us relax. I think it helped us focus on the task at hand and treat it like it was more normal than it actually was. 
Paste: What was your Grammy experience like?
JPW: I made eye contact with Dave Grohl after we won. He was in an interview, but he gave me a little golf clap. I think I giggled out loud. And then stepped firmly on Joy's dress. 
Joy Wiilliams: I can confirm JP's fangirl giggle, and the near strangulation from said stepping on my dress. We had a good laugh about it (that is, once air was able to reach my lungs again). Other highlights include meeting Sir Paul's band, talking to The Boss for a few minutes, catching up with the lovely Adele, meeting Bonnie Raitt and getting cut off in the backstage security line by Bruno Mars. 
Charlie Peacock: I felt like the Grammy experience was a big reminder of how amazing it is that the Civil Wars get to jump on the train of music history. Watching the show, I was proud to hear and see that Joy and JP really are from the same historic DNA as the people honored from Etta James to Sir McCartney. So there was the gift of having music we all made together receive Grammys, but sharing the restroom with Ice-T was cool too, and getting to visit with jazz legend Chick Corea was a bucket list item for me.
Paste: What are you going to do with your Grammys?
JPW: I honestly have no clue. My wife makes the decorating decisions. You'll have to interview her. 
JW: My husband and I just bought a house, so I'll happily be figuring out their resting places in the new digs as soon as we unpack. 
CP: I'll put my Grammy in the studio where we made Barton Hollow until it becomes a creative distraction, but that might be awhile.
Paste: What were you up to this time last year? Could you have anticipated these awards last year?
CP: I didn't want too get to far ahead of ourselves, but honestly, I was confident the music was Grammy worthy — no doubt about that — and it proved true.
JPW: We were releasing our record, and the tour consisted of four people in a van playing in 100-cap rooms. I'm not sure I was even dreaming this big. 
Paste: What do the Grammys for Best Country Duo and Best Folk Album mean to you?
JW: That nobody is quite sure what to do with us, and we are just fine with that. More seriously, it is an honor to be recognized by your peers. We never set out to make a certain kind of record. Never set out to please other ears besides our own. Our criteria was simple: to create a series of songs we felt proud of, songs that we'd want to play night after night. People getting behind our music at all — including this way — is icing on the cake. We are grateful. 
Paste: How did your families and friends react to the awards?
JPW: My beautiful and extremely patient wife was there by my side. When they announced the country duo award, she froze in her chair like a deer in the headlights. I had to grab her and make her kiss me. 
JW: I have two vivid memories of family reactions. First was my husband, Nate —who has been our tirelessly innovative, brilliant manager since the very beginning— getting misty eyed when the first award was announced. I loved planting a kiss on his handsome, elated face before heading for the podium. The second memory I'll always remember? Feeling our baby kick and wriggle from all the excitement the whole rest of the day and night. 
Paste: What's the future of the band looking like after these awards?
JW: While you can't really predict the future, we still plan to keep chugging along as usual. More shows in more cities. We like it that way, too. Our immediate plans involve heading to Europe, as Barton Hollow releases internationally March 5th. It'll be our first headlining tour over there, and we are really looking forward to it. After that, we will hit a few festivals early summer including Bonnaroo and Sasquatch. And then, I'm particularly looking forward to the impending birth of my and my husband's first baby in late summer.
Paste: What should we expect from the Civil Wars in the future?  
JW: The road has always been a priority to us, and will continue to be. JP and I have been brewing up some new melodies along the way. We have a few new songs up our sleeves that we are proud of. Plans for a new album are percolating, but we still have a bit of time before we dive head-long into record No. 2. It's not far from our minds, though. 
Got news tips for Paste? Email news@pastemagazine.com.
Others Tagged With