The Oscar-Nominated Short Films 2012: Documentary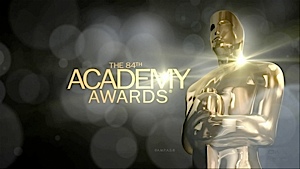 Natural disasters, violence against women, the Iraq War, the Civil Rights Movement—these are some of the weighty themes explored in this year's batch of Oscar-nominated documentary shorts. They are certainly important topics worthy of our attention. Keeping that attention, however, is another matter with uneven results.
The Barber of Birmingham
"The worst thing you can do is nothing," muses 85-year-old James Armstrong, a foot soldier of the Civil Rights Movement. The walls of his Birmingham, Ala., barbershop are papered with photographs and news clippings of people who did something, fighting against school segregation and the disenfranchisement of African-American voters in the Deep South. Unfortunately, this profile of Armstrong is not nearly as interesting as hanging out in his shop probably is—too much of his role is told to us rather than shown. Moreover, directors Gail Dolgin and Robin Fryday seem to not want their short documentary to culminate with the election of President Obama, focusing instead on Armstrong's lasting legacy. But his journey can't help but peak with the inauguration of the country's first black president, and eschewing that climax results in somewhat of a structural mess.
Directors: Gail Dolgin and Robin Fryday
Incident in New Baghdad
On July 12, 2007, in New Baghdad, Iraq, U.S. attack helicopters fired on armed men on the ground, slaying two Reuters journalists and other innocent civilians, including children. Three years later, video footage of the incident was leaked to the American media, and U.S. Army Specialist Ethan McCord had to relive that horrible day all over again from his living-room couch. Director James Spione benefits from ample visual documentation of the event, including grainy, black-and-white footage from the helicopter's bird's-eye view and grotesque photos taken by the soldiers who were there. Meanwhile, McCord gives a blow-by-blow narration of the affair from his point of view as an infantryman, in the process touching on the horrors of war, the military's attitude toward the mental health of its warriors, and the justification for an armed presence in Iraq in the first place. Unfortunately, with the exception of the first, these themes aren't covered adequately. Indeed, the film takes offense that there has been no further investigation into the incident yet makes no balanced inquiry itself.
Director: James Spione
Saving Face
The subjects of Daniel Junge and Sharmeen Obaid-Chinoy's documentary Saving Face are victims of men who not only don't value women but seem to hate them. Zakia and Rukhsana were each scarred grotesquely when their husbands threw acid in their faces. In Pakistan, 100 women a year report similar incidents—and those are only the ones who go to the police. Zakia is among the few who demand justice from the courts, while Rukhsana suffers the humiliation of having to reconcile with her spouse and in-laws, who participated in her assault. Into this mix arrives Dr. Mohammad Jawad, a British surgeon with a big personality renowned for his work on breasts. He returns to his homeland, however, to treat disfigured survivors of acid attacks. "Looking good, baby!" he says to his patients—that is, when he can hold it together in the face of their horrific life histories. What these women have experienced and continue to experience—not only the shame of their deformity but a lifetime of pain—is appalling. Bravo to Junge and Obaid-Chinoy for bringing it to light.
Directors: Daniel Junge and Sharmeen Obaid-Chinoy
The Tsunami and the Cherry Blossom
Like in her previous documentary Waste Land, which was nominated for an Oscar last year, Lucy Walker finds beauty in the most awful (and awe-full) of landscapes. Her prior film profiled artist Vik Muniz and his mosaics crafted from trash found in the world's largest landfill outside Rio de Janeiro. Here, she visits areas of Japan hardest hit by the March 11, 2011, earthquake and tsunami, interviewing survivors just weeks after they've lost their homes and loved ones, piecing together a narrative from their stories rather than imposing a narrator by voiceover or intertitles. It's in these days as well that the cherry blossoms bloom, and against breathtaking visuals of pink petals, Walker explores the significance of the flower to Japanese culture. The moral of the story—the strength and permanence of nature; the rebirth and, with it, hope of spring—is a simple one, and at times it's insisted on a little too tediously, but it's hard to oversell the persistence of both nature's beauty and the human will.
Director: Lucy Walker
God Is the Bigger Elvis, also nominated for an Academy Award in this category, was not made available for review.