The Truth Behind Those Cheesy Oscar Montages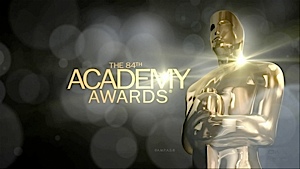 "There are so many reasons why we all love to go to the movies," Tom Cruise said moments before revealing the Academy Award winner for Best Picture. Fast forward through a montage of dance scenes wild enough to leave every character breathless, kisses in the rain passionate enough to bring them to their knees, and tearful exchanges they – and we – will remember forever. "And the Oscar goes to… The Artist," Cruise announces. And for the first time in Oscar history, a French actor and filmmaker take home Academy's top acting and directing awards.
But if you'd been watching the Oscars broadcast, it didn't matter that foreign actors and filmmakers took home top honors, making Brad Pitt and George Clooney look like they came from an entirely different school of acting. What's important is that during this year's show, not just seeing movies, but experiencing them, became a top priority. And the Academy was anything but shy when it came to selling the importance and the emotional connection moviegoers have (or should have) to the film industry.
Wedged between presenting Awards and commercials, the Academy showcased some of Hollywood's biggest names in a way you've rarely seen them—playing themselves. Sitting alone against a black backdrop, the A-list confessed to a decades-long love affair with motion pictures, heralding the magic only the silver screen can produce.
To be fair, at times these admissions came across as a Public Service Announcement for the film industry — and the blogosphere couldn't be fooled. "The Oscars' montage of stars talking about their movie memories feels like an Apple commercial," wrote Sheila Marika, who covered the show for ABC.
But the actors themselves seemed completely sincere.
"The way I watch movies, I'm really searching for myself, because I don't get to see enough of myself," Gabourey Sidibe, best known for her debut in Precious, confides, "and I kind of don't get to like myself enough but if I get to see myself on screen, I know that I exist."
Julia Roberts, hair cascading onto her shoulders, chimes in next. "You just discover the kind of person that you are in movies and what you believe in and what you hold dear and precious," she says, eyes steady on the camera, like she's speaking directly to every viewer who's grown tired of waiting for the night's biggest Awards, the Oscars for Best Actor, Actress and Picture.
With his arms crossed, Phillip Seymour Hoffman's is next to throw in his two cents. "You immediately identify with it from your gut, not from your head," he says from behind a graying beard, "And it makes you happy."
And he's right. Hoffman managed to relay in a single thought what the Academy may have hoped to achieve by enlisting as many famous faces as possible. No awards show can measure what moviegoers feel nestled between stadium seats wielding a gargantuan soda and popcorn with Dolby sound blaring overhead and all around them. Or how the excitement hums through a crowd during a great independent film's first screening.
Audiences can debate the validity of specific performances, argue over who really deserved the Award, and trash actors using the social media outlet of their choice. But it's our emotional connection to film, our gut reaction, not their formal recognition (by the Academy or any other awards show), that keeps us returning to theaters. And even if the Academy Awards show montages about that feeling were more than a little manipulative and self-serving, the feeling itself can't be denied.
Others Tagged With