Up All Night Review: "First Birthday" (Episode 1.17)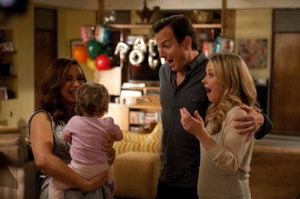 There are times when great shows can be annoying because the characters do something stupid just so the episode can have conflict. This was the case in this week's episode of Up All Night. Something seemed off the entire time, and I'm sorry to say that it was the second week in a row that the show failed to impress me like the vast majority of the freshman season has so far.
"First Birthday" is the third episode to center around a first for the Brinkleys following "First Night Away" and "First Christmas." Of course nearly every other episode is technically a first, but these three episodes are the ones to point it out. Unlike the other two previous "First" episodes, this one failed to produce anything substantial and only provided minimal laughable moments.
As you could have guessed by the episode title, it's Amy's first birthday, and her parents want it to be low-key and only invite her playgroup to the house. However, the annoying neighbors return and want it to be a shared birthday. It seems like one of the few times the writers decided to take on too much and didn't realize that sometimes bigger isn't better.
The episode highlights the differences between Reagan and Chris resulting in an uncomfortable half hour. Reagan has often been seen as an uptight, neurotic mother who wants things to go perfectly and will kick someone's ass if she needs to. Chris, on the other hand, is the cool guy who goes with the flow. It turns out that he is a little bit of a hothead after Reagan decides to let Chris handle the messes he created.
Chris is a smart guy, but it was funny to see him panic when faced with important decisions while Reagan isn't around. He allows Ava to be Amy's godmother, sets up Nancy (a returning Molly Shannon) with a needy single dad, and he's the one to agree to the ridiculous double birthday party. It was a clever way to prove that the husband should never make a decision without consulting with his wife. I guess that's what good marriage politics are all about.
Maybe the reason the episode didn't work for me was that everything that was written into it to annoy Chris, and I just didn't want to watch Chris internally suffer for the duration of the episode and wanted him to blow up earlier than it happened.
Others Tagged With