Up All Night Review: "Travel Day" (Episode 1.16)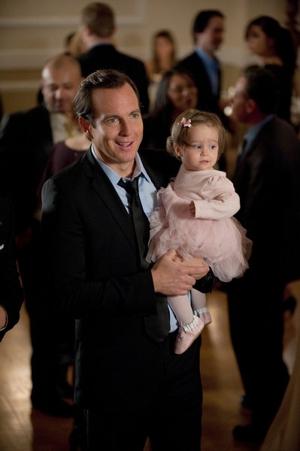 For the first time in a long time Up All Night failed to impress on such a high level. Sure, there were laughs here and there, but it just didn't do anything special. Guest star Alanis Morissette, who played Ava's former girl band co-member, was underused. Airport/bomb scenarios were shrug-worthy. Reagan's paranoia and control issues are finally too much to be cute and are kind of annoying.
It's not to say "Travel Day" didn't work. A lot of parts were funny, but the entire episode was marred with lackluster moments. However, a lot of those moments were forgiven thanks to a hilarious rendition of "Back it Up (Into My Face)" at the very end.
The show explores something we all hate: crying babies on planes. It would have been great to see it from the perspective of the parents, but instead we get Chris and Reagan running through the airport and never actually see them on the airplane. The majority of the episode is the two of them trying to get through security and Reagan forcefully reminding Chris they need to stick to the plan to ensure Amy will stay asleep during the flight. The baby is referred to as a "ticking time bomb" because she's about to have a "poop-splosion." It didn't really work, and this plot really missed the mark.
Ava's character-driven storyline explored her relationship with Kevin (a returning Jason Lee), but because the other half of the episode wasn't up to par, it felt like this plot couldn't carry the entire show. Ava showed a different side this week that the writers haven't explored too much. Normally we touch on her insecurities, but never see a lot of depth. Kudos goes to the writers for choosing to focus on that, but they lose points for pairing this plot with such a letdown Chris/Reagan storyline.
Eventually it all comes together in one room, and no one really steals the show. It turns out to be an average, run-of-the-mill episode. Chris and Reagan have revelations about their marriage, but that's been done before. We get that they have to learn how to live with each other's quirks; let's move on from that. As for Ava and Kevin, it will be interesting to see where the writers choose to send them. I love Jason Lee as a recurring character, and I don't think he'll leave the show anytime soon. Hopefully he'll stick around and will become a main cast member sooner or later.
Others Tagged With