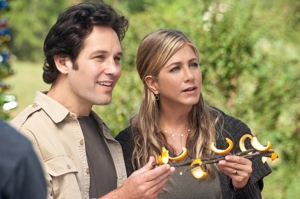 Alternative comedy actor/writer/director David Wain is on a roll. Aside from his popular running web series, Wainy Days, his subversive tribute to the '80s, Wet Hot American Summer, is gaining cult status, with rumblings of a sequel on the way. It's getting to the point that more and more people outside of New York and California might actually start knowing his name. Whether or not this would strip him of the "alternative" moniker and propel him into the dreaded "mainstream" is unclear, but his new film, Wanderlust, will only help bolster his cred either way, because it's just damn funny.
Paul Rudd and Jennifer Aniston play George and Linda, a married middle-class New York couple. They are, on the surface, financially okay, but the best new apartment they can afford is basically a shoe box, despite the spin put on it by the hilariously inappropriate Realtor (played by Linda Lavin!). (It's not a studio; it's a "microloft.") Linda is a freelancer, which is basically code for their both living off George's job in finance. But when his company gets shut down in a scandal, they are forced to leave town and shack up in Atlanta with George's successful suburban a-hole brother (Ken Marino). While en route, and through a slight but forgivable contrivance (spoiler alert—it involves a penis), they wind up spending the night at Elysium, a hippie commune run by the enigmatic and hirsute Seth, played with narcissistic, laid-back glee by Justin Theroux. Fed up with the pressures and frustrations of urban life, the couple get reluctantly entranced by the nature-loving, free-wheeling, patchouli-stanking vibe of the place, and they decide to give living there a try.
The film itself has the feel of a communal endeavor, as the elements come together pretty harmoniously. Wain's direction is sharp, economical and perfectly paced, as is the script, co-written with Ken Marino. Good comedy is hard to pull off, but Wain has wisely populated Elysium with a talented collection of actors who are able to successfully lampoon the off-the-wall lifestyle while still remaining believable characters. Kathryn Hahn and Reno 911's Kerri Kenney-Silver in particular have some great moments of goofy weirdness and holier-than-thou pretension. As a bonus, Alan Alda shows up as the power chair-bound acid burnout owner of the land (inasmuch as anyone can own anything, man).
Jennifer Aniston's role as a flustered urbanite is not really much of a stretch. She does nothing new here except for finally having picked a good project, but her usual befuddled persona fits in very nicely. And then there's Paul Rudd.
Rudd belongs to a select group of comic actors, like Michael J. Fox and Jason Bateman, who are so grounded in everything they do that they elevate whatever they're in. Rudd is completely comfortable on screen here, and he engenders that same feeling in the audience—we know we're in good hands. In one scene, Rudd has to give himself a pep talk in the mirror, and the sequence is a courageous and transcendent bit of improv comedy. One can only imagine how great the DVD extras are going to be.
Films that are simultaneously smart, raunchy and funny are a rarity these days, and we should be glad when we get them. Wanderlust may or may not achieve classic status in the long run, but who cares? It's great fun, which is exactly what it needs to be.
Director: David Wain
Writers: Ken Marino, David Wain
Starring: Paul Rudd, Jennifer Aniston, Justin Theroux
Release Date: Feb. 24, 2012
Others Tagged With