Young the Giant's Sameer Gadhia Talks Upcoming Tour and Second Album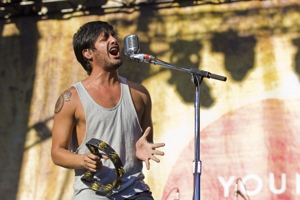 Los Angeles-based Young the Giant's Sameer Gadhia prefers the friendly, open atmosphere of festivals compared to club or theater shows.
"But if you ask me after this tour, I might have to answer differently," he says.
Gadhia and the rest of the group have been busy opening for the likes of Minus the Bear and Incubus all over the U.S. and spent time in Australia opening for fellow Californians Grouplove. And now they're ready for their first major headlining tour (this time Grouplove will be playing in support of the band).
Regardless of the time spent on the road, Gadhia knows this tour will be different. "I'm looking forward to playing new material. We've been writing a lot and trying to change up the set list. It's our first time doing a full hour and 30 minutes every night. Some of the nights we're doing two nights in a row in the same city…so it'll be challenging for ourselves to do this."
He feels that they're going to put at least three new songs into the set. Though he isn't sure about which of the untitled songs they will play, Gadhia was comfortable enough with one song, currently titled "Camera," to guarantee it will be performed on this tour.
Out of all of the songs the band has written, none have been demoed just yet. "It's better for us to play the song live and get a hold on it so that it can become very something different [when we record it]," Gadhia says, adding that he knows the importance of feeling the songs out before they get into the studio this upcoming September.
It is even more important to the group to pinpoint the sound they want on this album because they are going to approach it differently than their debut. Young the Giant will collectively produce the follow-up and want the album to sound as if it was recorded live just like the first one.
"We don't want to betray that we're a band and incorporate too many keyboards and [other instruments] that get us lost, but at the same time I think the material is going to diversify; it's going to be kind of far reaching," Gadhia says.
Like most bands coming off of their first album, Young the Giant claim that their second album will be heavily influenced by their time spent on the road. The majority of the time, the band enjoys long conversations with a variety of people ranging from brand new fans to the bands they have become friends with over the course of their career. Those experiences heavily influence not only their skills as songwriters, but also their personal characteristics.
"It's easy to get jaded after travelling a lot," Gadhia noted. "For better or for worse we really don't take anything for granted."
That is the mantra they will take on their nearly sold-out 40-plus date tour that kicks off in San Francisco on Feb. 8 at the Fillmore. They'll spend the next two months touring non-stop, gaining more of those experiences and fine-tuning the songs that will form Young the Giant's sophomore album.
Got news tips for Paste? Email news@pastemagazine.com.
Others Tagged With