Apples in Stereo Drummer John Dufilho's Album to Include Ben Kweller, Chris Walla
Rhett Miller, Will Johnson, Sarah Jaffe also to make appearances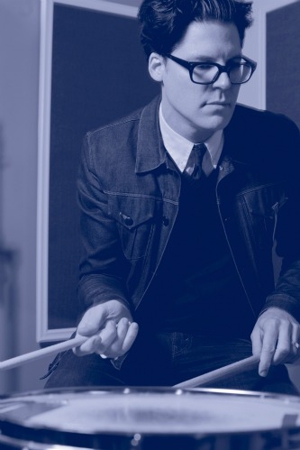 It seems like Apples in Stereo's John Dufilho is joining the ranks of Don Henley, ?uestlove and Dave Grohl in terms of drummers-turned-songwriters. For his newest project, John Singer Sergeant (which was an homage to the 19th Century American painter), Dufilho wrote a number of songs and enlisted his singer friends to contribute vocals to the tracks. John Singer Sergeant: The Music and Words of John Dufilho will be released April 10.
The 14-song LP will feature guest appearances from Ben Kweller, Old 97's Rhett Miller, Death Cab for Cutie's Chris Walla, Centro-matic's Will Johnson, Kool and the Gang's Sir Earl Toon and many others. Check out the full track list and teaser video for the album below.
Tracklist
1. Big Distortion (featuring Will Johnson)
2. Mountains, Oceans, Elephants (featuring Ben Kweller)
3. Jinxed (featuring Robert Schneider)
4. Dizzy Joy (featuring Sir Earl Toon)
5. My Own Worst Critic (featuring Rhett Miller)
6. Married To The Sea (featuing Marcus Striplin & Sarah Jaffe)
7. Birdy Num Num (featuring Danette Dufilho & Letty Gomez)
8. Why Does Your Moog Effect Me So? (featuring Brandon Carr & Dylan Silvers)
9. Kick Your Feet Up High (Kid's Song) (featuring CJ Davis)
10. Lazy Days Are Good (featuring Erik Sanden)
11. Crooked Teeth Like A Broken Piano (featuring Salim Nourallah)
12. Gone In A Second (feaaturing Tony Miller, Sarah Jaffe & Spyche)
13. Normal Sounds Weird (featuring Chris Walla & Racheldemy)
14. It's Hard To Run Uphill On Stilts Sung By Spyche
Got news tips for Paste? Email news@pastemagazine.com.
Others Tagged With