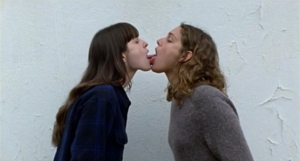 On the heels of Dogtooth, Yorgos Lanthimos' surreal Oscar-nominated family drama about teenagers sealed off from the outside world, comes Athina Rachel Tsangari's contribution to the new, some say "weird," wave of Greek cinema. The connection between these two films isn't tangential: Tsangari served as associate producer on Dogtooth, and Lanthimos produces and appears in Attenberg. Both feature protagonists with strong family ties who are cut off from the rest of society—in Dogtooth literally, here emotionally. And both highlight behavior that is head-scratchingly strange.
Attenberg opens on a plain white wall. As the camera rolls, two young women enter the frame in profile and start to make out. Sort of. They don't touch each other, and their mouths are open too wide, their jaw action too aggressive. Then they rub their tongues together. Then they spit at each other. Then they hiss at one another like cats, getting down on all fours.
This isn't the only time characters mimic animals, for 23-year-old Marina (Ariane Labed) learns most of what she knows about humans from watching Sir David Attenborough's mammal documentaries. (The movie's title is drawn from a mispronunciation of the naturalist's name.) It's unclear whether these are games she plays with her best friend Bella (Evangelia Randou) and her father Spyros (Vangelis Mourikis), who is dying, or an aspect of her reality.
Marina is a bit of a late bloomer. She's a virgin; in fact, the idea of sex with a man repulses her. She's not attracted to women either, though she does admire their breasts. But as she deals with her father's impending death, she starts to experiment, first with Bella, who's much more experienced than she, then with a visiting engineer (Lanthimos) whom she drives to and from his hotel in the seaside industrial town where she lives.
This plot arc takes some time to develop, though, in a series of scenes that focus on behavior and emotion rather than narrative. For example, throughout the movie, Bella and Marina are filmed walking arm-in-arm in similar flower-print dresses. Bella's is black; Marina's is blue. They walk toward the camera as it tracks backward. The first time we see them, they are simply talking (albeit about trees hung with penises rather than fruit). But as we return to the girls in their matching outfits, their choreography gets more and more elaborate and expressive, until they are kicking their legs up to expose their undergarments and grabbing their crotches. These routines are by turns arresting and alienating, just like Tsangari's characters.
Part abstract performance art, part family melodrama, Attenberg gets down in the emotional muck where life, death and sex intertwine. And like those life experiences, watching it can be both awkward and poignant.
Director: Athina Rachel Tsangari
Writer: Athina Rachel Tsangari
Starring: Ariane Labed, Vangelis Mourikis, Evangelia Randou, Yorgos Lanthimos
Release Date: Mar. 9, 2012
Others Tagged With