Eastbound & Down Review: "Chapter 19" (Episode 3.06)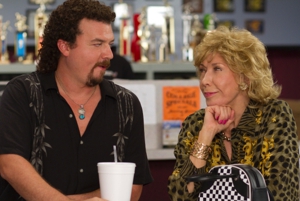 And the garage is for cars.
It all makes sense now. Almost everything that makes Kenny Powers (Danny McBride) who he is — the arrogance, belligerence, deceitfulness, vulgarity and vanity — springs directly from his parents. Like his dad (Don Johnson) Kenny regularly abandons people when they're no longer of no use to him or after screwing them over. Like his mom Tammy (Lily Tomlin) he's an angry hedonist with an omnivorous appetite for drugs. Tammy's supreme confidence in her son also explains Kenny's megalomania. It might be obvious for the show to draw such clear connections between Kenny's problems and his parents, but it's also obviously truthful. We are all the products of our upbringing. It makes me wonder how Kenny's brother Dustin (John Hawkes) turned out so well.
The difference between Kenny and his mom is common sense. She clearly has some, unlike her delusional son. Sure, she'll punch out that hateful shrew in her bowling league, and pop any number of prescription pills while downing a Yuengling, but her nice suburban house proves she's able to keep things under control better than her son or ex-husband. And although Kenny and Eddie (Johnson) both seem oblivious to the true nature of Tammy's relationship with her live-in lady friend, she's obviously the only one of the three who can keep a girlfriend. I probably wouldn't have thought of Tomlin as a prime candidate for the role of Kenny's mom, but she might be the perfect choice; she's a legendary comedian with a prickly intelligence that can be finely tuned between maternal protection and physically violent rage.
This episode worked more than most this season. It's not that it wasn't dark — Tammy might be more responsible than Eddie in many ways, but she's clearly an unfit parent, a ravenous drug abuser who helped puff her son's ego up to dangerous levels — but it does represent at least a slight speed bump on the rapid downward spiral of Kenny's life. Maybe he visited his mom for purely selfish reasons, and knowingly led an absolutely untrustworthy man to her doorstep in the person of Eddie, but in the end Kenny uncharacteristically did the right thing. Instead of ditching Toby with Mrs. Powers Kenny left with a renewed sense of parental responsibility.
Toby might be a mere plot device, and one with less screentime than you'd expect, but he's key to this season's larger theme of family. Without Toby we never would've met Kenny's mom. We never would've seen the depressing dissolution of the marriage between Stevie (Steve Little) and Maria (Elizabeth De Razzo). Kenny's dad didn't show up from Mexico because of Toby, but their brief family reunion did make him rethink his plan to rob Tammy of her family heirloom silverware. Kenny's realizing that he needs other people, and not just to carry him off the diamond after one of his increasingly rare saves. All it took was a son, the death of a close friend, the mental breakdown of another close friend, and the example of his tender, domineering, self-reliant mom.
Finally, who knew Don Johnson and Lily Tomlin would have such amazing chemistry with one another? Both are fantastic this episode. Even though Eastbound is clearly McBride's showcase, it has such a deep history of excellent supporting turns, from such first-season regulars as Katy Mixon and Andrew Daly to Michael Pena's unhinged performance as the charismatic owner of the Charros in season two. Johnson and Tomlin might be the best, though.
Others Tagged With