Free Energy's Love Sign Will Channel '80s Pop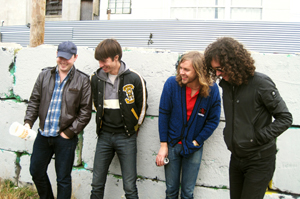 Free Energy's follow-up to their buzzworthy 2010 debut Stuck on Nothing is finished. And in place of '70s-rooted guitar rock, the band is looking toward another decade for inspiration.
We recently talked to lead singer Paul Sprangers who offered insight to the band's new album, Love Sign. Sprangers said the forthcoming album "more or less has the energy and feel of a pop record from the mid to late '80s."
The quintet spent nearly a month on pre-production with producer John Agnello (Dinosaur Jr., Cyndi Lauper) before recording in Dreamland Studios (Woodstock, N.Y.) and Headgear (Brooklyn, N.Y.).
"We pointed at big, clean pop records of the 1980s," Sprangers said about their meeting with Agnello, "He was totally down."
That instant spark was the common thread throughout the energetic album. It gave Sprangers more freedom to bounce ideas off of lifelong friend and lead guitarist Scott Wells to ensure they produced the explosive sound they were aiming for.
"We have a shorthand with each other," Sprangers said about their writing process. "A lot of decisions are made really quickly,"
The two have been friends since childhood and played music together since high school. Tough they've gone through phases of musical taste, they knew they wanted Free Energy to have a very specific vibe.
This '80s pop-inspired album was finished in January, and the band is still tweaking the track sequencing before closing the books on the process. Sprangers revealed they don't want anything to be rushed and that the band is very involved in the process. He noted, "We're taking baby steps with this one."
The precise sequencing of the album isn't certain, but he said the album as a whole features eclectic styles featured in big pop songs of the '80s.
"There's a song called 'Jam' that sounds like some weird dude version of 'Girls Just Want to Have Fun.' There's another one that sounds like Talking Heads or Peter Gabriel. One sounds like something off of Born in the U.S.A. – a very straight ahead anthem. It's big, clean and fresh."
As for the first single—"Electric Fever," which was released earlier this week said it's a good representation of the entire album "but it's just the tip of the iceberg."
Love Sign's release date has not been announced, but the band expects to make an announcement soon.
Got news tips for Paste? Email news@pastemagazine.com.
Others Tagged With