Freelance Whales Talk Science Fiction-Influenced Sophomore LP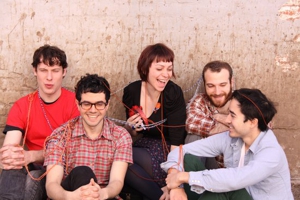 Freelance Whales' Weathervanes was one of our favorite albums from 2010. And yesterday, the band told us they are back in the studio working on that album's follow up, which is "definitely bigger sounding and more ambitious."
We recently spoke to multi-instrumentalist Chuck Criss and drummer Jacob Hyman about their sophomore effort. The album is expected to be released sometime this summer after the band sifts through the mounds of material they tracked in Shane Stoneback's (Sleigh Bells, Cults, Fucked Up) Tree Fort and SMT studios.
"We've done basically a song a day," Criss said. "When there's five people writing and performing, that part ends up being super quick. Now we're kind of in phase two of arranging and overdubbing vocals. It's slowing down a little bit and it's kind of like the clean up part of the process."
This album —unlike Weathervanes, which was written by lead vocalist Judah Dadone— was a collaboration between all five members of the band. The process started when they finished touring last summer. Dadone moved into a house in upstate New York to begin the process, and the remaining four members floated in and out over the month to bring the different aspects of the songs together, resulting in something vastly different than their debut album.
"It's night and day compared to
Weathervanes
," said Hyman. "We all had a pretty big hand in the making and conception of the outlook of making the record. It rocks harder and better"
Criss added, "This is going to be different that's for sure. In the best way possible."
The album's more ambitious outlook stems from a nostalgic place where a lot of the writing was influenced by television shows from the '80s, in particular, science fiction.
"There's a lot of heavy themes that deal with the prehistoric and the futuristic, but none of it takes itself super serious," Criss revealed. "We're not trying to make this ominous record. We just wanted to play with the notion of the emotionality in science fiction."
While the entire album had a different approach and a grander sound, the two likened the album to "The Great Estates," Weathervanes' final song.
The untitled album is still in the post-production process and the band isn't sure when it will be released, but they're anticipating a summer release. A subsequent tour will follow, which they hope will start sometime in either August or early September.
Freelance Whales are playing the Governors Ball Music Festival in New York on June 24.
Got news tips for Paste? Email news@pastemagazine.com.
Others Tagged With