HBO Cancels Luck After Horses Die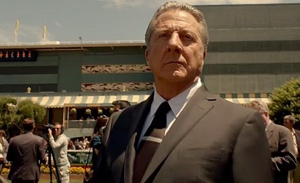 We've been avid followers of the new series Luck which features the talent of Dustin Hoffman, Dennis Farina, John Ortiz and Kevin Dunn.
Only nine episodes of the racetrack drama series has aired, but after the death of a third horse, HBO pulled the plug on the series.
The network has released the following statement:
"It is with heartbreak that executive producers David Milch and Michael Mann together with HBO have decided to cease all future production on the series Luck. Safety is always of paramount concern. We maintained the highest safety standards throughout production, higher in fact than any protocols existing in horseracing anywhere with many fewer incidents than occur in racing or than befall horses normally in barns at night or pastures. While we maintained the highest safety standards possible, accidents unfortunately happen and it is impossible to guarantee they won't in the future. Accordingly, we have reached this difficult decision. We are immensely proud of this series, the writing, the acting, the filmmaking, the celebration of the culture of horses, and everyone involved in its creation."
Having already earned a season two pickup, production will stop immediately but the final two episodes will still air.
A horse was injured on Tuesday and later had to be euthanized which resulted in the suspension of filming and launched an investigation from the American Humane Association.
PETA has weighed in on the issue, stating:
"Knowing that old, unfit, and drugged horses were forced to race for this series, PETA is glad that HBO has finally decided to cancel the show. We thank the whistleblowers who refused to let these horses' deaths go unnoticed. Should Milch, Mann, and HBO decide to start the series up again, PETA will be calling on them, as we have done from the start, to use stock racing footage instead of endangering horses for entertainment purposes. PETA has called on law enforcement to investigate the deaths of the horses used on the set and to bring charges as appropriate."
Luck was not a breadwinner for the network. It averaged around 4.8 million viewers. That number includes all repeats and platforms.
The final episodes of Luck air March 18 and 25.
Got news tips for Paste? Email news@pastemagazine.com.
Others Tagged With