Howler Writing '60s Pop-Inspired Second Album
Album Expected Early 2013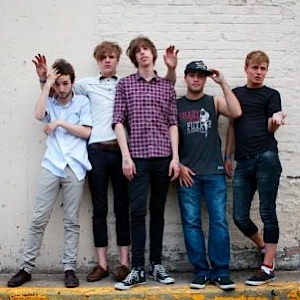 During our phone interview, Howler frontman Jordan Gatesmith announced that the conversation about his band's new songs interrupted his naked game of Pac-Man. It was the day before he and his band set off on a cross-country tour in support of their raucous January debut album, America Give Up, the singer discussed his group's mild ambivalence to the first set of songs and the subsequent eagerness to tour and move on to the next musical project.
With the same tone of biting sarcasm that makes America Give Up so catchy, Gatesmith snidely remarked, "Fuck the debut."
"No, I'm just kidding," he said. "I'm really proud of it and all, but I was done with that record basically when I turned it in August or September." He continues, "I basked in it for a while in September and October, but right when November came around, it was like well, it's going to be released in two months. I've already heard it a million times. It's time for the next thing."
So Gatesmith has been writing constantly, setting up chains of looping pedals to help flesh out ideas for new songs. With a new appreciation for '60s pop, he believes that some of that influence will seep into the tracks that form the next Howler record.
"We're not exactly changing genres," he said. "But we're definitely changing a couple things up. I've always been kind of a '60s enthusiast—the garage rock of the '60s and an enthusiast of punk rock—but right now, I'm getting really kind of deep into the poppy side of the '60s.
"I'd say it's more like the Yardbirds, even a bit psychedelic. I'm really into The Rolling Stones' more psychedelic records like Between the Buttons, Aftermath, Their Satanic Majesties Request. And also a lot of early '60s crooners kind of like Dion [DiMucci] and Del Shannon just for pop sensibilities. I'm really happy that we did our punk rock record, you know, our America Give Up, 'fuck it all this is thrash.' I want to write music has more of a groove to it."
Noting that his trademark snark will still play a prominent lyrical role, Gatesmith also sketches a rough timeline for the next Howler record. "I would like to have the second album out in early 2013," he says. "Maybe March. Just need to put the pieces together."
In the meantime, Howler begins their tour in Appleton, Wis. tonight, and will play Paste's own SXSW party next week.
Got news tips for Paste? Email news@pastemagazine.com.
Others Tagged With