La Sera: Sees The Light
[Hardly Art]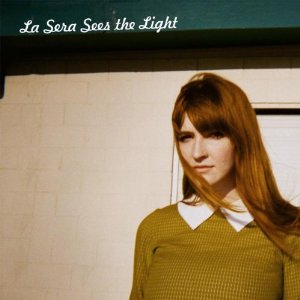 Within the first few notes of opener "Love That's Gone"—before a single word is uttered—it's pretty clear that Sees the Light is a breakup record. In fact, Vivian Girls bassist Katy Goodman's second long-player under the La Sera moniker could convey the emotions of eternally gray days even if the vocals were completely stripped away.
Then again, the song titles leave little to the imagination ("Break My Heart," "It's Over Now," "Don't Stay"). And that opening song is a heartbreaker, traipsing along like a lost track from Fleetwood Mac's post-breakup album Tusk (Christine McVie's opening saddy "Over and Over" comes to mind). Even the crystalline guitar lines running through "Love That's Gone" sound as if they could be traced back to Lindsey Buckingham.
Sees the Light does benefit, however, from Goodman's pure and honeyed voice—it's what brings the record's 10 bare-bones garage pop songs to life. Guitars ebb and flow from icy jangle to warm fuzz, drums are loose and scrappy, and when things are at their most layered, you might get some tambourine or Fender Rhodes. "It's Over Now" benefits from the latter, which hums underneath the spare arrangement, while "Real Boy" gives in to Goodman's proclivity for early Spector-produced pop.
Goodman smartly mixes up the pace throughout the album's tidy 30-minute running time. Things are at their punkiest on "Break My Heart" and first single "Please Be My Third Eye," while "I'm Alone" and "Don't Stay" flutter under airy acoustic guitars, which give her soaring vocals even more heft. In the end Sees the Light might not break your heart, but Goodman's voice sure will.
Sees the Light manages to squeeze a boatload of emotions out of simple verse-chorus-verse pop. It helps that Goodman doesn't merely paint herself as the victim here, taking an equal share (if not more) of the blame for the situation at hand. And while relationships and the pitfalls of love can be fleeting, there's always something to be taken away from the experience. First and foremost—a nasty breakup should always leave a good soundtrack.
Others Tagged With