Listen To Bon Iver and The Flaming Lips' "Ashes In The Air"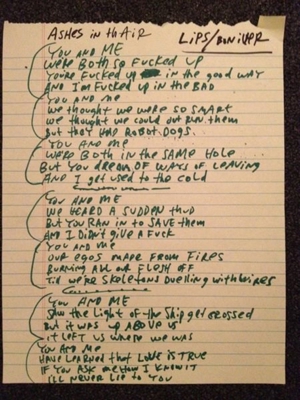 We previously reported The Flaming Lips release of The Flaming Lips and Heady Fwends is set for a Record Store Day release on April 21.
The album is a collaborative two-LP collection of songs featuring the likes of Lips fwends Bon Iver, Yoko Ono, Nick Cave, Chris Martin, Yim Yames, Erykah Badu and a slew of others.
You can listen to the latest track release "Ashes In The Air" below, which features Bon Iver on vocals. With phrases like "robot dogs" and "egos made of fires" "Ashes In The Air" proves to be in true Lips-Bon Iver form.
Check out the tracklist for The Flaming Lips and Heady Fwends.
The Flaming Lips and Heady Fwends
Side 1:
1. 2012 (featuring Ke$ha and Biz Markie)
2. Ashes In The Air (featuring Bon Iver)
3. Helping The Retarded To Know God (featuring Edward Sharpe and the Magnetic Zeros)
Side 2:
1. Supermoon Made Me Want To Pee (featuring Prefuse 73)
2. Children Of The Moon (featuring Tame Impala)
3. That Ain't My Trip (featuring Jim James of My Morning Jacket)
4. You, Man? Human? (featuring Nick Cave)
Side 3:
1. I'm Working At NASA On Acid (featuring Lightning Bolt)
2. Do It! (featuring Yoko Ono)
3. Is David Bowie Dying? (featuring Neon Indian)
Side 4:
1. The First Time Ever I Saw Your Face (featuring Erykah Badu)
2. Thunder Drops (featuring New Fumes)
3. I Don't Want You To Die (featuring Chris Martin of Coldplay)
Got news tips for Paste? Email news@pastemagazine.com.
Others Tagged With