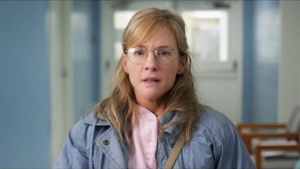 Natural Selection starts with a boner. It's an old boner, and it belongs to Abe (John Diehl), a Christian zealot who's refused sex to his 40-year-old wife for nearly 25 years. So it's an old, unused boner—one that sends Abe's wife on the misadventure of her life, prods Abe's illegitimate, cooked-out son to finally get his life in order, and nearly puts Abe in his grave.
Natural Selection, an indie favorite at festivals across the country in 2011, is a violent, witty, heart-wrenching and, most of all, awkward tale of one woman's travels to places beyond her own—places that are painful and depressed, yet intoxicating with excitement and lifestyles she could have never before imagined.
Abe's spouse, Linda (Rachael Harris), is an obedient Christian wife with a disturbing past. At 16, she aborted hers and Abe's first child, and the back-alley procedure left her barren. It's a decision that haunts Linda and Abe to this day: Abe is convinced the Lord stole away Linda's "womanhood" for a reason and hasn't had sex with her since. But while Abe is seen by his wife and extremely devout Christian community as a steadfast man of God, refusing worldly pleasures for a greater reward in Heaven, he's secretly been visiting a sperm bank for more than 20 years, masturbating to, of all things, church porn. Unfortunately for Abe, God has a wicked sense of humor: Abe has a stroke while beating off during a visit and is now in the hospital fighting for his life.
Of course, Linda is at his bedside day and night, praying, crying for Abe's recovery. During one of these visits, Abe has a subconscious, medically induced outburst, mumbling something about his son. It's then that Linda discovers Abe's second life and begins the journey of discovering one of her own. After scanning through Abe's sperm bank records, she finds that her husband has a son named Raymond (Matt O'Leary) living in Florida. Against the community's wishes, Linda sets out to find Raymond, leaving her small Texas town on a journey that will completely change her.
Natural Selection is a film driven by its character studies—those of Linda and Raymond, specifically. The two are the Odd Couple of odd couples when they first meet but eventually discover that, in order to untangle their messy pasts, they desperately need one another.
Harris, whose most memorable role is as Stu's nagging wife in the Hangover, gives a remarkable performance. The Linda her Church knows—naive and submissive, with a deeply buried sense of worthlessness—is a person one wants to console and reassure of her beauty. But as she discovers the once-unknown mysteries of the world—junkies, alcohol, violence, extreme poverty, crime and dirt and filth and ruin—and embraces them with the love of an innocent child, Linda becomes someone to root for. The tendency to pity is replaced by the urge to cheer her on; push her until she becomes her own woman capable of enjoying life on her own terms, not her husband's.
That's the magic Harris brings to her character: this completely believable stranger to the world, cast into the fray, unarmed and unaware, by the very people who were supposed to protect her from it. It's a breakout performance and by far the most enjoyable aspect of the film.
O'Leary, on the other hand, is less impressive. Raymond is a highly complex drug addict whose life story is even more dramatic than Linda's: he was married once and has three kids, but drugs and his inability to hold a job have caused his family to leave, left him hopelessly broke and, at one point, landed him in jail for armed robbery. Yet O'Leary's portrayal of Raymond seems somehow off, like he didn't have the chance to fully develop the character. There are scenes where he shines, like during an emotionally charged tell-all with Linda during the dead of night, but there are also scenes when his performance seems forced, or even a bit flat. It may not be O'Leary at all; it may be the writing. Either way, Raymond is, at times, empty, which is an unfortunate blemish on a plot that depends so much on its characters.
Acting aside, Natural Selection is a wonderfully crafted story based on a heartfelt concept. Self-discovery and finding true freedom are the two omnipresent themes driving the film and leading viewers to love and hate all the right characters at its conclusion. Natural Selection is funny when it should be—it is, after all, a relatively dark film, and the humor helps ease the tension—and closes with a twist as surprising as the finale of the Usual Suspects.
Director Robbie Pickering won all eight awards for which Natural Selection was nominated during the festival circuit last year—and some impressive ones at that: several "Best Film" accolades, as well as three impressive wins at SXSW. They're well-deserved awards, ones that may foreshadow a surprise hit when the film makes its big-screen debut. But it'll be up to the movie-going public and whether they get the same hard-on over a 40-year-old near-virgin as the independents did.
Director: Robbie Pickering
Writer: Robbie Pickering
Starring: Rachael Harris, Jon Gries, Matt O'Leary
Release Date: Mar. 16, 2012
Others Tagged With