New Girl Review: "Injured" (Episode 1.15)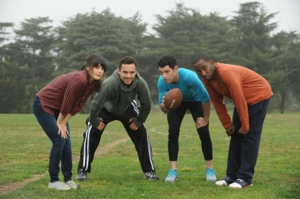 Most modern sitcoms have an episode where everything sort of clicks, leaving the audience to go, "THAT'S why I watch this show." It's usually an episode that gets to the heart of what a show is about. Some of my personal favorites include The Office's "Booze Cruise," "Harvest Festival" on Parks and Recreation or Community's "Modern Warfare." With "Injured," New Girl has made its first episode that feels just like that.
"Injured" starts off with the four roommates playing a game of football against some unknown competitors when Jess tackles Nick, leaving him, as the episode name implies, injured. Since Nick doesn't have insurance and now he's walking awkwardly, like a Disney witch, Jess takes Nick to see her friend Sadie, who is actually an OB/GYN. She gives Nick some pills but notices something odd on his thyroid and schedules an appointment for the next day to check out what it could be. The roommates do their own investigation, and conclude that it could possibly be thyroid cancer.
The rest of the episode flows at a nice pace, never rushing from set piece to set piece. Nick is afraid and also doesn't have the insurance to pay for the check-up. The four, along with Cece, gather at Nick's bar and hang out, with Winston doing his best Aaron Neville impression and Schmidt doing (hopefully not his best) freestyle rapping about Nick. When Nick admits that he is not the kind to take chances, the group takes Winston's busted old car to the beach, where Nick runs into the ocean, immediately regretting the decision since it is freezing. The group falls asleep on the beach and heads to the hospital to check on Nick. His check-up goes fine, of course he doesn't have cancer, and his friends pay the bill for him.
Now what is it about "Injured" that works so well?" The episode isn't about making Zooey act a bit wacky or having Schmidt saying douchebag-y things, but rather about how the group interacts as a whole. They are their own odd family, and it shows throughout "Injured." The show is fine with allowing the characters to just spend a little time on the beach, contemplating what might happen, instead of getting into crazy hijincks. It's also one of the few episodes in which we are not presented with a new boyfriend or girlfriend that will be around a few weeks and then vanish, leaving us just with the core five.
New Girl is also great with dealing with past episodes you may have seen before, twisting them ever so slightly into something fun and unexpected. The episode isn't about Nick regretting chances he never took or even really about the fear that Nick may have a horrible disease, even though it comes close to both, but toys with the idea of those types of episodes.
"Injured" has some great people working behind the scenes that deserve recognition for a job well done. J.J. Philbin, who worked on The O.C. for years, wrote "Injured," and it definitely has an O.C. vibe, with the focus on friendships and of course their time spent on the beach and use of indie songs in pivotal moments (this time Beach House's "Take Care"). Also Lynn Shelton, who has proven she can mix drama, comedy and relationships in her film Humpday, directed "Injured". This combination of Philbin and Shelton's talents works brilliantly with New Girl's style.
"Injured" gets to the core of what New Girl should be: five friends dealing with their insecurities about who they are while also staying true to who they are as individuals and remaining funny. New Girl shouldn't rely on side characters or goofy moments to create story because it doesn't need to. "Injured" left me with a smile on my face, not just because of the fine story told, but also because it seems like New Girl knows how to be exactly what it needs to be.
Others Tagged With