Smithsonian Folkways to Release Live Pete Seeger Concert from 1960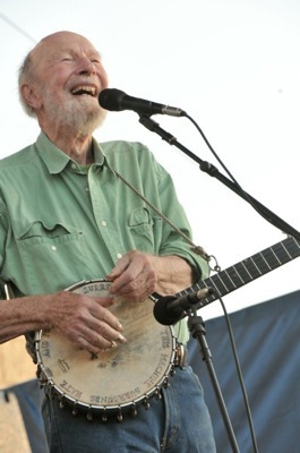 Less than a month before his 93rd birthday, Smithsonian Folkways will release a classic recording of Pete Seeger performing at Maine's Bowdoin College. The album, entitled The Complete Bowdoin College Concert 1960, will be available on April 17.
The live album features a whopping 35 tracks and including two songs-"Al Smith Holds the Bottle" and "I Had A Dream"-previously unavailable on other Seeger recordings.
Check out the complete tracklisting and take a listen to "Penny's Farm" and "Hieland Laddie" below.
Disc 1
1. Goofing Off Suite-Opening Theme
2. Penny's Farm
3. He Lies in the American Land
4. Deep Blue Sea
5. Hieland Laddie
6. Oh, Riley
7. Banjo Medley: Cripple Creek/Old Joe Clark/Old Dan Tucker
8. Summertime
9. D-Day Dodgers
10. Quiz Show
11. Al Smith Holds the Bottle
12. What a Friend We Have in Congress
13. Living in the Country
14. Water Is Wide
15. Bells of Rhymney
16. Goodnight Irene
17. Intermission
Disc 2
18. Big Rock Candy Mountain
19. I Had a Dream
20. Oh, What a Beautiful City
21. In the Sweet Bye and Bye/Preacher and the Slave
22. Last Night I Had the Strangest Dream
23. Medley: Colorado Trail/Spanish Is the Loving Tongue/From Here on Up/Texas Girls/We Pity Our Bosses Five/The Scabs Crawl In/Swarthmore Girls
24. Open the Door Softly/Road to Athay/Why Do Scotsmen?
25. Hold Up Your Petticoat/Where Have All the Flowers Gone?/Step By Step/Joe Hill's Last Will
26. Vive La Quince Brigada
27. Suliram
28. Wimoweh
29. Michael, Row the Boat Ashore
30. Commentary
31. Bourgeois Blues
32. Black Girl/Kisses Sweeter Than Wine
33. Tzena, Tzena, Tzena
34. Worried Man Blues
35. Conclusion
"Penny's Farm" performed by Pete Seeger by Smithsonian Folkways
"Hieland Laddie" performed by Pete Seeger by Smithsonian Folkways
Got news tips for Paste? Email news@pastemagazine.com.
Others Tagged With