Arctic Monkeys Talk New Single "R U Mine?" and Touring With The Black Keys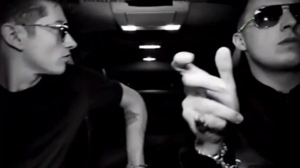 With their 2012 Black Keys support tour only two weeks in, Arctic Monkeys have been impressively making their way across the greater part of the United States.
We caught up with drummer Matt Helders when the Sheffield quartet were in D.C. to talk tour, new single "R U Mine?" and future plans.
Paste: You've got some intensive dates for this tour, as seasoned as you all are, does it ever get overwhelming?
Helders: We have a lot of fun on tour. We're quite used to it now I think. In terms of preparing, I don't know, it's just kind of all I know, you know?
Paste: The video for "R U Mine?" is pretty hilarious. Where did the idea originate?
Helders: The idea was… sometimes when were messing around driving we film ourselves singing stupid songs on the radio, people do that I think, and in a way we wanted to do a video we could put out straight away without any promotion which is what we did with "Brick By Brick." We didn't tell anybody we were releasing it, we just put it out. In a way, that worked better than any other video we've put out. And "R U Mine," more people have watched that than any other video on this album. So obviously it worked.
Paste: You're being modest, It's had 2 million views within a few weeks. Is "R U Mine?" a part of a new album?
Helders: It's a standalone thing. Mainly because we kinda needed something new to put out for this tour I suppose. We'd already done four singles for Suck It And See so we decided to do something new. So yeah, we haven't really started writing officially, a record or anything, but there's a few things we're playing around with in sound checks.
Paste: And how is the crowd responding to "R U Mine?"
Helders: Good I think. It's weird because it's not particularly our fans in the front row or whatever, not as far as I can see, but some of them seem to know the words. It's a lot of fun for us to play because we can really get into it.
Paste: That's encouraging. It just dropped and people already know the words.
Helders: Yeah, it was. It's really good to see.
Paste: Did James Ford produce the single?
Helders: No, no. It was our friend who did it. He's done "Evil Twin" with us and stuff like that as well. We recorded "R U Mine?" in Sheffield when we were between tours.
Paste: How's the tour going now? Are you enjoying it?
Helders: Oh yeah, absolutely. We're really big fans of Black Keys, kind of always have been. It's a great tour to be able to watch them as much as you want as well. We've never done a support tour so it's quite a lot of excitement and fun to just go on for an hour and you've got the rest of your night to enjoy as well.
Check out The Arctic Monkeys & The Black Keys 2012 Tour schedule as well as the latest video for new single, "R U Mine?"
March
13 – Montreal, Quebec @ Bell Centre
14 – Toronto, Ontario @ Air Canada Centre
16 – Indianapolis, Ind. @ Conseco Fieldhouse
18 – Grand Rapids, Mich. @ Van Andel Arena
19 – Chicago, Ill. @ United Center
20 – Cleveland, Ohio @ Quicken Loans Arena
23 – Norfolk, Va. @ Constant Convocation Center
Got news tips for Paste? Email news@pastemagazine.com.
Others Tagged With