The Flaming Lips Ready Exclusive Record Store Day Album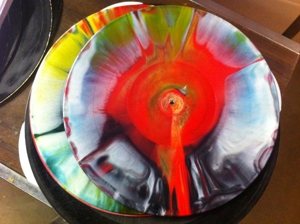 Those who follow Wayne Coyne on Twitter have probably been wondering why the Flaming Lips have been posting cryptic videos of themselves working with artists like Ke$ha, Yoko Ono and Bon Iver for the past few months. Well finally, the answers have been revealed.
For this year's Record Store Day on April 21, the psychedelic group will release The Flaming Lips and Heady Fwends, a collaborative two-LP collection of songs featuring those aforementioned guests, as well as Nick Cave, Coldplay's Chris Martin, My Morning Jacket's Yim Yames, Neon Indian and others.
Though some tracks have already appeared on other limited releases, most of the music on The Flaming Lips and Heady Fwends is being pressed for the first time on extremely limited hand-thrown colored vinyl.
The Lips will also appear on another single for Record Store Day, as part of Warner Record's on-going Side by Side series. A baby pink 7" will feature Atlanta's heavy metal band, Mastodon covering "Spoonful Weighs a Ton," off the Lips' 1999 album The Soft Bulletin.
Check out the full tracklisting for The Flaming Lips and Heady Fwends below.
Side 1:
1. 2012 (featuring Ke$ha and Biz Markie)
2. Ashes In The Air (featuring Bon Iver)
3. Helping The Retarded To Know God (featuring Edward Sharpe and the Magnetic Zeros)
Side 2:
1. Supermoon Made Me Want To Pee (featuring Prefuse 73)
2. Children Of The Moon (featuring Tame Impala)
3. That Ain't My Trip (featuring Jim James of My Morning Jacket)
4. You, Man? Human? (featuring Nick Cave)
Side 3:
1. I'm Working At NASA On Acid (featuring Lightning Bolt)
2. Do It! (featuring Yoko Ono)
3. Is David Bowie Dying? (featuring Neon Indian)
Side 4:
1. The First Time Ever I Saw Your Face (featuring Erykah Badu)
2. Thunder Drops (featuring New Fumes)
3. I Don't Want You To Die (featuring Chris Martin of Coldplay)
Got news tips for Paste? Email news@pastemagazine.com.
Others Tagged With