The Flaming Lips' Record Store Day Records Will Contain Collaborators' Blood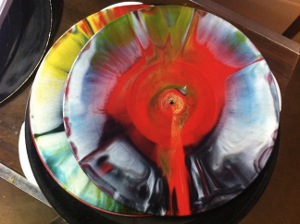 In his latest move of outlandish eccentricity, Flaming Lips frontman Wayne Coyne has announced that he intends to include a bit of blood in the packaging of a select few special editions of the band's 2012 Record Store Day release. That's right, the actual blood of The Flaming Lips and Heady Fwends' extensive list of collaborators, including Erykah Badu, Yoko Ono, Bon Iver, Nick Cave, Ke$ha and Neon Indian, among many others, will be infused into the vinyl record for the upcoming release.
"What I'm going to try to do—and I'm collecting stuff for it as we speak—is I'm going to try to make a record that has every person's blood in the record," Coyne told MTV Hive. "I don't have everybody's blood just yet, but I collected quite a few vials of blood and it's actually sitting in my refrigerator as we speak… I'm going to try to take that same concept and put little bits of everybody's blood in the middle of this record. Like a glass specimen thing."
According to Coyne, five or six copies of the blood-infused record will be available for purchase. Naturally, due to the extremely limited quantity, they are sure to come equipped with a hefty price tag.
Check out the full track listing below:
The Flaming Lips and Heady Fwends
Side 1:
1. 2012 (featuring Ke$ha and Biz Markie)
2. Ashes In The Air (featuring Bon Iver)
3. Helping The Retarded To Know God (featuring Edward Sharpe and the Magnetic Zeros)
Side 2:
1. Supermoon Made Me Want To Pee (featuring Prefuse 73)
2. Children Of The Moon (featuring Tame Impala)
3. That Ain't My Trip (featuring Jim James of My Morning Jacket)
4. You, Man? Human? (featuring Nick Cave)
Side 3:
1. I'm Working At NASA On Acid (featuring Lightning Bolt)
2. Do It! (featuring Yoko Ono)
3. Is David Bowie Dying? (featuring Neon Indian)
Side 4:
1. The First Time Ever I Saw Your Face (featuring Erykah Badu)
2. Thunder Drops (featuring New Fumes)
3. I Don't Want You To Die (featuring Chris Martin of Coldplay)
Got news tips for Paste? Email news@pastemagazine.com.
Others Tagged With