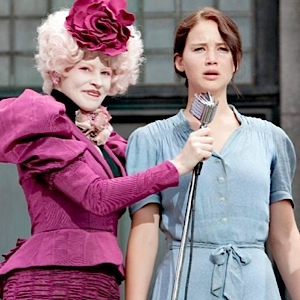 Suzanne Collins' futuristic dystopian society comes to life in the long-awaited debut of The Hunger Games. But it's Jennifer Lawrence's performance as Katniss Everdeen, the 16-year-old protagonist who unapologetically puts her life on the line to save her sister and challenge the twisted logic of the government, that will singlehandedly launch what should prove to be the next inescapable book-turned-movie franchise.
Fans of the books won't be disappointed. With few exceptions, director Gary Ross doesn't veer too far from Collins' novel. It's rare that a film based on a Young Adult novel is able to juggle so many powerful issues so profoundly, but Ross finds a way to translate Collins' imaginative plots into a visually triumphant, emotional roller coaster of economic struggle, class warfare, politics, sacrifice, independent thinking and rebellion without compromising too much of the original manuscript.
A cruel punishment for a past uprising, the Hunger Games are a nationally televised fight to the death where two teenagers from each district are forced to battle for their lives. Katniss Everdeen, a citizen of District 12, volunteers as tribute to replace her young sister (who had been initially selected). In the Arena, where the event takes place, Katniss soon learns her emotions are as turbulent as the Games themselves and that she'll have to choose between survival and love if she wants to make it home.
Woody Harrelson, Lenny Kravitz, Elizabeth Banks, Stanley Tucci, Donald Sutherland and Wes Bentley all offer strong supporting performances as various citizens of Panem. But none rival Jennifer Lawrence's emotional portrayal of Katniss, who is desperate to find a shred of humanity in a society terrorized by this gruesome tradition.
As Haymitch, the only living Hunger Games victor from District 12, Harrelson offers comic relief to the anxiety of Katniss and Peeta (Josh Hutcherson). An arrogant drunk, it's clear to see that Haymitch has never fully recovered from the horror of the Games. Harrelson manages to dole out believable enough advice to Katniss and Peeta, letting a few heartwarming touches (like his tendency to call Katniss "sweetheart") and one-liners (often at Effie's expense) slip through the curtain of shaggy blonde hair that surrounds his face.
Lenny Kravitz's depiction of Cinna, Katniss' stylist for the Hunger Games, is more about confidence than it is about fashion. By creating two unforgettable outfits in which Katniss appears to be engulfed in flames, Cinna is able to stir up his tribute's inner workings. Kravitz's performance comes across as more confidante than stylist. Dressed in black throughout the film, the only part of Kravitz that stands out is the glimmering gold eyeliner that permanently graces his eyelids.
Sporting a poof of electric blue hair, Stanley Tucci plays Caesar Flickerman, the cackling host responsible for interviewing each tribute. Even as he parades around teenagers who are destined to die, Flickerman's personality is simply infectious, and even the tributes themselves can't help but laugh. Tucci's Flickerman is more than entertainment: His performance serves as a mirror to present day society. It's easier to notice how consumed our society is with the twenty-four hour news cycle and reality television when it's portrayed by comical, candy-colored characters like Flickerman. Regardless of the topic—be it a government-mandated teenage bloodbath or a televised wedding—if it's packaged well enough and served to audiences with a wink and a smile, viewers seem to obsess over it … and Tucci's performance captures just that.
Marquee names and talents aside, it is Lawrence's performance that separates The Hunger Games from other Young Adult novels with cult followings. Her embodiment of Collins' complex character is more than a testament to her ability as an actress; it will be what cements her career as a Hollywood heavyweight.
While she earned an Oscar nod for her role in Winter's Bone (2010), Lawrence's emotional range in The Hunger Games cannot be ignored. She's as equally captivating lunging for a piece of bread as she is placing a kiss on the forehead of a murdered tribute. Even in subtle instances, like when she pulls back the arrow to kill her latest prey and it gently grazes her lips, Lawrence embodies Collins' description of Katniss, and that should keep audiences raving about her performances for weeks after the film has left the theaters.
Throughout the entire 142 minutes of this film, Lawrence's intensity on relaying Katniss' strength and loyalty is unwavering. She has forged a connection with the courage present in every page and every scene of The Hunger Games, and in turn, she's created an unforgettable character who leaps off the screen and into moviegoers' hearts.
Director: Gary Ross
Writer: Gary Ross, Suzanne Collins, Billy Ray (screenplay); Suzanne Collins (novel)
Starring: Jennifer Lawrence, Josh Hutcherson, Elizabeth Banks, Stanley Tucci, Lenny Kravitz, Woody Herrelson, Donald Sutherland
Release Date: Mar. 23, 2012
Others Tagged With