Up All Night Review: "Daddy Daughter Time" (Episode 1.21)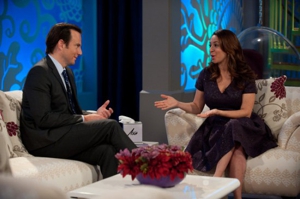 All things considered, Up All Night is a good show. However, while the first season has had a lot of great moments, it's also been littered with uneasy scenes or even full episodes that fell flat. At first it didn't seem like there would be a season-long plot, but then the show took a step in the right direction. Now it's back to focusing on single episodes that don't truly string together.
It's not to say these types of shows don't work, but NBC shows tend to always have a common thread running through each episode. This week's episode of Up All Night was another one that introduced an idea only to have it squashed by the end.
"Daddy Daughter Time" is a misleading title for the episode. While there is a story about Ava's father, whom she calls "the grooviest Jew since Neil Diamond donned a cape," coming into town, it isn't the central part of the show. Sure, seeing Henry Winkler with a ponytail was funny, but again it was another misuse of a guest star.
The middle of this season did such a great job with every aspect of the show that it's disappointing to see recent episodes become so average. All of a sudden there's no substance and Chris, Reagan and Ava have become so middle-of-the- road that it's like the writers are planning for the future instead of worrying about what's right in front of them.
Chris did save this episode from being the first completely lackluster one of the season. He was hired as a consulting on-air lawyer for The Ava Show, which gave us an opportunity to see just how much he could annoy his wife without meaning to. His arm gestures while telling the viewers to "do the math" over and over again were a great parody of on-air 'experts.'
It was an interesting dynamic to see Chris and Reagan work together for an episode, but that's all it was for: one episode. Down the line, if the show lasts multiple seasons, no one will say, "Hey, remember that time Chris worked at the talk show?" Instead it will be lost in the shuffle of first season episodes that weren't special. It would be better if this episode was a complete flop, because then it would be memorable in some way. Yet, it was simply average, which is something Up All Night never was before.
Others Tagged With