Watch a Candid Therapy Session with Bradford Cox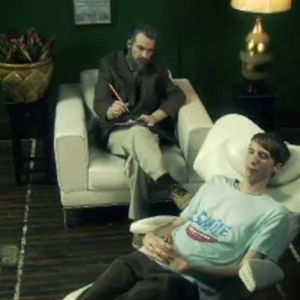 It's been a long week for Bradford Cox's publicist. At an Atlas Sound show in Minneapolis, the outspoken frontman launched into an almost hour-long rendition of "My Sharona" after a heckler shouted an unfortunately timed song request. The sprawling, jammy rendition featured everything from Cox demanding that the heckler strip naked to audience members holding folding chairs above their head. What followed was a media frenzy that was quick to print phrases like "meltdown" and "crazy."
"'Oh, he's fucking crazy, he's melting down, blah, blah,'" Cox told Pitchfork about the media coverage. "I just shoot the shit with people. I don't give a fuck how it comes off. People have to be themselves. It's just some little punk show. It's irritating to have people find your behavior interesting when you're not doing anything except being yourself. I'm just in a dark zone, searching for a little humor."
And the performance was different, but this certainly wasn't as insane as, say, any given GWAR concert. As Cox not-so-eloquently put it in that Pitchfork interview, "It's not like fucking Lana Del Rey carved an upside down cross on her cheek and defecated all over herself on stage at fucking Bonnaroo."
And although we might have said it differently, the Atlas Sound frontman has a point. This is, in his words, "punk rock," a genre that depends on humor and attitude just as much as power chords and 4/4 drum beats.
A few years ago, we got a first-hand taste of Cox's dark sense of humor in the form of a therapy session he did for Paste's TV show, Pop Goes the Culture. The clip shows the frontman discussing commitment issues and obsessive compulsive behavior with a Freud-like figure. And, without his ski-mask, he looks a lot less menacing airing his issues this time around. Take a look at the clip below.
Got news tips for Paste? Email news@pastemagazine.com.
Others Tagged With