Neko Case, Dr. Dog to Headline Pickathon Festival
Pickathon Executive Director, Dr. Dog bassist talk festival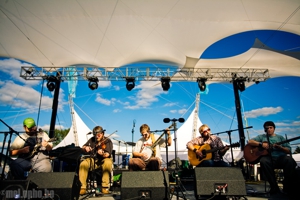 Across the States, music festival curators are doing their best to bring the most innovative and interactive festival experiences to fans. But not many are working the angle of sensibility quite like Zale Schoenborn, executive director of Portland's Pickathon Music Festival.
We spoke to Schoenborn, curator of the 14-year-old festival held at Pendarvis Farm, to talk 2012's lineup, food, green efforts and the magic the August weekend brings.
The festival, described by Schoenborn as what started "more as a picnic" has evolved in the past from an expanding radio gig to a Wired editor's fantasy, a land of multimedia, art, rebranding and redesigning ideas come to life.
It was no shock that Zale and his four partners, Eric Schoenborn, Terry Groves, Ned Failing and Michael Dorr function as a community. "We're very unique in that aspect," he explained. Independent ownership of the festival has allowed, "the true essence of the Pickathon to remain."
With a 140-person broadcast team, the festival will be streaming, but not like it was last year. Zale explains, "We're doing streaming, but not streaming like you're used to. We're doing high-definition, remixed, re-mastered audio that goes through a multi-track. It sounds like high-fi fidelity. You're capturing this emotional intensity of people just going out of their minds – It's just magic."
The festival is set to include acts like Dr. Dog, Typhoon, Neko Case, Blitzen Trapper, Abigail Washburn, The Wood Brothers, Laura Gibson and the Cave Singers. You can check out ticket options and the full lineup at Pickathon's website. With the festival lineup dropping today, we also sat down with Pickathon's headliner Dr. Dog, to talk past festival experiences, the excitement surrounding this years' festival and their current U.S. tour.
Paste: Tell us a little bit about the farm and why you chose it for the festival as well as why Portland makes Pickathon so unique.
Schoenborn: A lot of the craziest things we get to pull off here tend to work so smoothly because of Portland. People are just willing. The main thing we do, 100 percent is music, but we learned a while ago the environment of how that music is presented is super important. You know, you put it in a cruddy space, it's going to be okay but if you put it in a great nurturing space then it can just explode. That led us to doing all sorts of Portlandia things. We got rid of all plastic. We do no one use items and it's really just a fabric. It sounds crazy on paper but when you're there it's really not that big a deal, it just works. It was just kind of embarrassing we were throwing away 50,000 plastic water bottles. We sell these Klean Kanteen stainless steel cups that are so functional, they live in everyone's kitchen all year round – there's no push back. It just feels great to participate in.
Paste: Why is it so hard to make these small changes?
Schoenborn: People are afraid of it, especially promoters. We've talked to a lot of festivals and were like, "This is really easy. People really love it."
Paste: How difficult was it to implement this "no-use-once" mentality? It appears that it was pretty organic and natural from what you've said so far.
Schoenborn: Yeah, it kind of fits with our ethic. When you get into the music side of it, we curate this thing in a kind of different perspective than a lot of other festivals. We love to analyze the most amazing thing going on in the music drama, that might not even have a draw but for folks invested, this is Elvis… this is the rise of the phoenix. It's just the coolest thing. A lot of these ideas have come up from sensibility. It's like, "well, look at all this plastic." So then we have these real conversations with people who know their stuff and start throwing out these "crazy" ideas like, "why don't you get rid of all single use items" and so we try to do it. We just keep pushing it. This year we're going to do all of our drinks in kegs backstage. It's cheaper for the drink makers to put them in kegs – they don't even have to package them, it's awesome.
Paste: That makes sense.
Schoenborn: It totally does. And it's not even that big of a deal. It sounds like some science fair project but you won't even notice it as an inconvenience or an issue at the festival.
Paste: Tell me about the meal process.
Schoenborn: Well, we wash dishes. Essentially you buy a meal token. When you want to eat you give your token to a vendor and you are served not on a cruddy paper plate but on an organic resin, biodegradable bamboo plate. It's really nice to eat this super inspired food, our food is like the festival too, on a beautiful plate. You can bring your own plates, we'll give you half off your food, or you can take these plates home with you, which are way cheaper than what we're charging. We got rid of 25 percent of our waste doing that. Crazy.
Paste: When someone sees any form of art, whether it be a beautifully crafted plate, or a meal, a stage, that visual aspect enhances the experience. And in the Vimeo video, the festival looks like magic.
Schoenborn: It's exactly that aesthetic. We ride a fine line. We're not a mega production company. There are actually only five of us. And it's the same with our artist. We give them a giant sandbox and say, "this is your parameter, go for it" and it's explosive. We then form a relationship with these people. The guy who builds all the fabric structures that we do does the world's largest fabric structures.
Paste: I was going to ask you all about this.
Schoenborn: It takes us two and a half weeks to build. This is a guy who has built a whole industry out of it (architectural rooms in Hawaii that retract) and we just kind of turned him loose. Now this thing is iconic. It's so bizarre. We build and fabricate our own light structures. We've wrestled unions and production companies to build the safety and figure that stuff out. The result is totally art.
Paste: Right. It looks like you're living under art.
Schoenborn: It is. It's totally inspiring and we pretty much treat the whole farm like that. We have these chefs that come into Pickathon that challenge their selves to inspire each other; it's just so cool. We're thinking on every level you can turn everybody's favorite week into the year and infuse it with the most amazing music you can find on the planet. If you look through our lineup we have a total disregard for the typical.
Paste: Tell me about your artists.
Schoenborn: We balance about 50 percent indie-music and 50 percent traditional. The people on one side of that equation love the people on the other side of that equation and it's fun. Everybody loves challenging each other. It's a small enough festival to be in a 300-person barn or out deep in the woods, so they can all see one another. They dig that kind of intimacy. It brings out these great performances, too. It's like a big show off where everyone's happy and ready to do their best.
Paste: It sounds like the atmosphere brings more fuel.
Schoenborn: Right. It's an emotional intensity. To us, it's commonsense to treat the musicians like guest in our house, that's always been central. I guess that's not a common component of all festivals. And you know, you have to make choices. With only six stages and every artist playing twice, you have to have artist who take up enough oxygen to do their own thing.
Paste: You take all these artists and put them in a farmland and say, "Here you go. Go for it."
Schoenborn: You can even bring your kids. It's super easy and safe. That's kind of Portland. You can bring your kids and intermingle and people are respectful of those kids.
Paste: You've created a very self-aware place.
Schoenborn: It is. It's a total social experimentation on all kinds of levels.
Dr. Dog's Toby Leaman on Pickathon
Paste: How was your 2010 and 2009 experience of Pickathon?
Leaman: The look of the festival is really different. My favorite part is the layout of it. There are all these different stages. Even the camping area has all these stages. I like the idea that you're just wandering around and then you stumble upon somebody playing. It always looks great. Last time we were there they had these stretching fabrics, looked like bat wings, it was so nice. It's just a pleasant festival compared to a lot of them. It's easy to walk around and you don't feel trapped in one zone. At Pickathon you don't feel that separation at that festival like you do a lot of the others. It feels like you're playing a festival.
Paste: How does it feel to be headlining?
Leaman: It's real cool. I'm into it.
Paste: And with Enter The Void out now, you'll have a lot of new material to tackle with a festival audience. How does playing the record live feel?
Leaman: If it feels really great immediately, you know there is something inherently worthwhile about it and you don't have to work it to death to make it sound like a song you want to listen to.
Paste: You mentioned tracks that didn't make it onto the album. Are you working them into anything?
Leaman: I imagine the extra songs, we'll put them out some how. Maybe some 7''. There are a few songs that have been sitting around for a long time that are never going to make it on a record but are really great songs I feel like we can do something with.
Paste: During this tour, what has been track you're audience has responded too that you didn't necessarily think would be an instant favorite?
Leaman: "Heavy Light" has been crushing, it totally translated. It's been the dark horse came out of nowhere and people really responded well to it.
Got news tips for Paste? Email news@pastemagazine.com.
Others Tagged With