White Rabbits: Milk Famous
[TBD Records]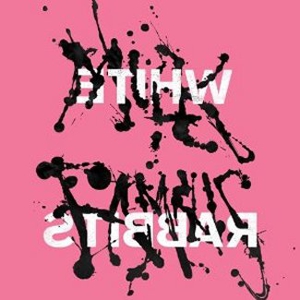 The White Rabbits are really making a statement with this one. That statement: none of these songs are gonna get grabbed by a car commercial! Not even the toe-tappin' first single, "Temporary," which contains just enough disjointed synth corners to delight today's craft-beer drinking youth while simultaneously siphoning attention away from any foreground video one attempts to watch (I'm not bitter about my unsuccessful visit to Redtube, more about the fact critics have to work on Saturdays).
Still, Milk Famous is one of the better of the many unofficial Gimme Fiction tribute albums we've seen. While Spoon continues to influence indie rock more and more each year, there's an undeniably original spirit to White Rabbits, who indulge a very staccato, earthbound variety of space-pop. It almost conjures visions of tribal drum-circlers pushing gadgets on a UFO. If there's any doubt as to whether they are officially the "Kid On My Shoulder" rabbits or the "Percussion Gun" rabbits, you can rest assured it's the latter.
If you had to imagine one of these songs selling you a sleek new Cadillac (which is meant in the appreciative, not pejorative) it would be "Danny Come Inside," a rockin' beat with a steady low-end and endlessly flittering atmospheres. "Back For More" summons post-Amnesiac Radiohead with etherial vocal drone and dripping electronics over a should-be danceable beat that you would simply never dance to.
"Everybody Can't Be Confused" is a math-adelic romp which pits a simplistic piano-line against a drummer on Heisenberg meth. (I was tempted to coin this genre "Indie Meth-Math", but I don't want to hog brilliant contributions to the sub-cultural lexicon any more than is absolutely necessary.)
All told, Milk Famous is going to do pretty well with critics, but less well with sales. The music is way more logical than emotional, so none of these tracks are going to get much air-time at your local touch-tunes. Still, in lieu of memorable choruses, indie nerds will enjoy this disc of earthy space-pop as a complete experience without any aesthetic hiccups.
Others Tagged With