Alabama Shakes: Boys & Girls
[ATO]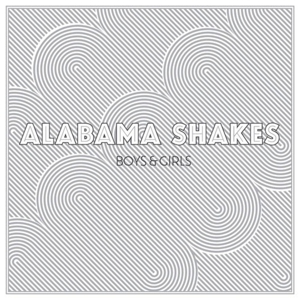 As far as supersonic rises to fame go, Jeremy Lin could stand to learn a thing or two from the Alabama Shakes. In the span of a year, the band has gone hawking their self-titled EP on the Nashville DIY circuit to being the toast of last fall's CMJ Music Marathon in New York to working on one of the most anticipated full-length debuts in recent memory. Along the way, the Shakes have toured with Drive-By Truckers, provided the soundtrack for a Zales commercial and were named Paste's 2011 New Band of the Year. Most bands go through an entire career without this kind of hype, but fortunately for the Shakes—singer/guitarist Brittany Howard, guitarist Heath Fogg, bassist Zac Cockrell and drummer Steve Johnson—their first true album Boys & Girls only justifies the fervor surrounding them.
"Be Mine" sets the tone for the record. After a series of bluesy guitar licks, you hear it: That voice. Howard's vocals start off sweet and sepia-tinged, a croon worthy of the Staples Singers in their heyday. Midway through the song though, Howard delivers a warning shot, and when she sings "If they wanna fight / They done started fuckin' with the wrong heart / They got another thing comin'" her voice takes on the smoky, artfully raspy edge that is the source of its clout. As the song enters its homestretch the band ratchets up the intensity, and among the chaos of churning guitars and crashing cymbals Howard demands "Be my baby" until her words dissolve into howls and whoops of unfettered exhilaration.
For the remainder of the album, the Shakes lean on the formula that makes "Be Mine" such a potent distillation of their sound. Their approach is mostly characterized by simple yet flowing Dixie-style guitar that gives way to Howard's grandiose vocals. This is not to say that the Shakes' instruments are consigned to the background: "On Your Way" churns along on a propulsive wave of drums before ending in a searing, countrified solo that features some impressive picking skills. Similarly "Hang Loose," with its twangy riffs and plinking piano, offers a brief and sunny departure from the rest of the record's comparative solemnity.
Undeniably at the center of Boys & Girls, though, is Howard's ascendant balladeering, which allows the Shakes to explore a sound made famous by the twin giants of Motown and Muscle Shoals. The deliberate piano and backing organ on "Heartbreaker" are lifted straight from a Smokey Robinson B-side, and when Howard laments "How was I supposed to know / You was a heartbreaker?" she is able to draw out the syllables and stuff them full with the emotion of a jilted, indignant lover. Her voice races from falsetto to growl to wail so quickly that she often changes direction mid-word, and that dynamism gives even the Shakes' slowest songs a restless, animal energy that is impossible to ignore. Howard's sound contains distinctive elements of Janis Joplin's flint and spontaneity, Aretha Franklin's depth and power and at times even the sweetness of Diana Ross.
Perhaps most impressively, Howard's voice makes her sound wise and world-weary much more than her 23 years on earth should allow, which reflects back on the band as whole. In the Shakes' songs about longing, loss and betrayal, they sound more like timeworn musicians drawing on years spent observing life in their Southern town than newcomers on the alternative scene. Standout tracks like "Hold On" and "You Ain't Alone" (both of which were on the Shakes' initial EP) boast an intimate, touching pathos in addition to eloquent composition, and each has a stately tempo augmented by Howard's inevitable vocal pyrotechnics.
As with all debuts, not every song on Boys & Girls is a knockout, but the Shakes only stumble when they deviate from the sound that makes them so compelling. The title track plods somewhat and even Howard's delicate approach cannot prevent the song from collapsing under its own weight. "Goin' to the Party" is a bit too whimsical for its own good, but at least it's just a short segue between tracks. In all, these cuts amount to only a slight misstep, after which the rest of the album unfurls to fulfill the promise found on "Be Mine."
Despite the tendency of listeners to lump the band squarely into the category of soul revivalists, Boys & Girls is best enjoyed not as an anachronism but as a fresh take on the sounds from a bygone era. The Shakes have said they look to punk and hard rock as much as anything else, and the melding of those influences with the band's rootsy, passionate appeal results in a style all their own, free of cynicism and brimming with vitality. The album will result in the band's star burning even brighter, but compared to how far the Shakes have already come, the next stage of their career should be a breeze.
Others Tagged With