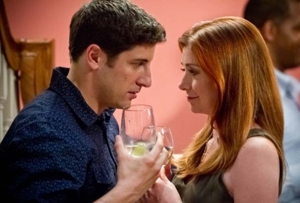 Feeling nostalgic for the late '90s? Perhaps it's because Titanic is sailing back into theaters this week—or the American Pie gang has reunited for its, uh, 13-year high school reunion. Jim (Jason Biggs), Oz (Chris Klein), Kevin (Thomas Ian Nicholas), Finch (Eddie Kaye Thomas) and, of course, Stifler (Seann William Scott) are back at East Great Falls High, and some things have changed while others haven't: They're old now—a point driven home repeatedly as they interact with their Michigan hometown's current crop of teenagers—but Stifler's still the resident dick (a designation that yields one of the film's funnier, more satisfying moments).
Jim and nympho band-geek Michelle (Alyson Hannigan) are married now with a kid—a situation that has put a damper on their sex life. They're hoping to get some quality couple time over the long weekend while staying with Jim's Dad (Eugene Levy, who actually provides some nice sentimentality amid the series' signature sexual shenanigans). Their goal is complicated by the fact that the girl next door is now a hot 18-year-old with an unrequited crush on her childhood babysitter, Jim.
Oz is a big-shot sportscaster in Los Angeles now, with a hot model girlfriend and an appearance on Celebrity Dance-Off to prove it. When he runs into Heather (Mena Suvari) at the reunion, he realizes what he'd really like to do is settle down. Kevin is a work-at-home architect who's feeling a bit domesticated, what with his reality-TV-watching routine with his lovely wife. At the reunion, he'll see Vicky (Tara Reid) again.
Finch has fallen off the grid while he travels the world: Beijing, Dhubai, Africa and South America. And Stifler, well, he's still Stifler, working as a temp for a guy he would have beaten up in high school. Their particular feud—Finch, remember, slept with Stifler's Mom (Jennifer Coolidge), repeatedly—still rankles.
Also back for the reunion are John Cho as MILF Guy #2 in an expanded role; Natasha Lyonne as the sexually experienced Jessica, now a lesbian; Chris Owen as the Sherminator; and Shannon Elizabeth as Czechoslovakian exchange student Nadia. Part of the delight for fans of the franchise is catching up with these characters and finding out what happened to them. (Several of the actors, too, have been scarce on the silver screen.)
Writer-directors Jon Hurwitz and Hayden Schlossberg, the scribes behind the Harold & Kumar movies and directors of one, are fans of the American Pie movies, and it shows. Familiar elements from Jim's bedroom to Stifler's house to the East Great Falls street-corner mural to the opening scene's misleading sex sounds have been lovingly recreated. The sexually charged gags seem less shocking now (although Biggs personally takes one for the team), perhaps because the original spawned a genre that's exponentially upped the ante, most recently in Project X.
Ultimately, American Reunion is an exercise in nostalgia. It's mildly amusing, often due to in-jokes, recognizable scenarios and familiar mise-en-scène. But like the East Great Falls Class of 1999, viewers soon realize that this isn't high school anymore, and we can't go back to the way it was.
Directors: Jon Hurwitz and Hayden Schlossberg
Writers: Jon Hurwitz and Hayden Schlossberg
Starring: Jason Biggs, Alyson Hannigan, Chris Klein, Thomas Ian Nicholas, Tara Reid, Seann William Scott, Mena Suvari, Eddie Kaye Thomas, Jennifer Coolidge, Eugene Levy
Release Date: Apr. 6, 2012
Others Tagged With