Camper Van Beethoven Prepping Eighth Studio Album
Album Expected to be Released Next Fall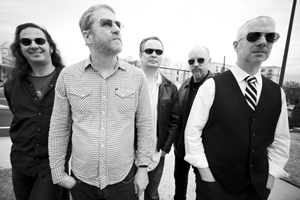 It's been about eight years since Camper Van Beethoven released their last studio album, New Roman Times. That's not to say members haven't been busy— singer David Lowery has been teaching music business classes at the University of Georgia and working with his other band, Cracker, while Victor Krummenacher and Jonathan Segel both released solo albums.
Finally, it seems, after a stint at the first annual Cracker and Camper Van Beethoven Camp-In in Athens earlier this month and sporadic tour dates since December 2011, Segel told Paste that the full band has been working on a new studio album that he hopes will be released this fall.
"We didn't actually start writing until about a year ago," said Segel. "Greg [Lisher] and David got together and sort of came up with some melodies and then we all—Victor, Greg, David and I—spent a week here at my house in the living room everyday working on music, writing music, working on melodies that Greg and David had worked on. We sort of honed it down into a bunch of songs, like probably 20 or so."
After some time in a local Oakland, Calif. studio working with engineer Jason Carmer, Camper whittled the 20 tracks to 16. Now, explained Segel, "I think all of the songs are now in Athens, where we started doing some mixing in January, so we've got probably about a third of the record done." He noted that the finished product will probably be closer to just 10 songs.
But Camper's projected timeline for the yet-to-be-titled album may get delayed because of Cracker's upcoming tour schedule. "I know that Cracker is doing this enormous tour with '90s—Barenaked Ladies and Blues Traveler and Big Head Todd," said Segel. "It's like, some enormo-tour, so that might take up some of the time for finishing up the Camper record."
Nonetheless, Segel spoke excitedly about the forthcoming album. He talked about being inspired by the themes and sounds of Northern California (his current home) and the band's collective musical evolution. "The sound on this record is even higher quality than on the last record. I think our playing is better. Our ability to figure out what it is that we want to play for each song is a little more honed," he said.
As for the new tunes themselves, though, fans should expect some diversity. "It's a little more laid back," he began. "Some of them are very psychedelic. But some of the songs are a little bit more restrained—less going on with better sound."
Got news tips for Paste? Email news@pastemagazine.com.
Others Tagged With