Damon Albarn Says New Music From Blur and Gorillaz is Unlikely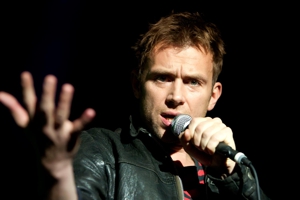 While Damon Albarn is staying preoccupied with products like his new band Rocket Juice and the Moon, working with Bobby Womack on his new album and releasing music from his opera, Dr. Dee, it seems like the two bands that helped Albarn make a name for himself will most likely not be releasing new music.
Albarn recently stated in an interview with The Guardian that there probably will not be any more material coming from Blur or Gorillaz. Rumors had been floating around that Blur was working on a new album and tour, but in the interview Albarn states that Blur's new single "Under The Westway" should be the band's last release, with their final performance being at the closing ceremonies of the Olympics on August 12 at Hyde Park.
When asked about Blur, Albarn stated, "I find it very easy to record with Graham," speaking of Blur's guitarist Graham Coxon. "He's a daily musician. With the other two, it's harder for them to reconnect. You know what I mean? It's fine when we play live—it's really magical still—but actually recording new stuff, and swapping musical influences, it's quite difficult."
When asked about Gorillaz, the answer sounds equally grim. "Jamie does, which is fair enough. I think we were at cross purposes somewhat on that last record Plastic Beach, which is a shame." When asked what led to the end of Gorillaz, Albarn admits it had to do with their 2010 tour and how artist Jamie Hewlett's visuals weren't as integral to the experience. "The music and the videos weren't working as well together, but I felt we'd made a really good record, and I was into it. So we went and played it."
With this being the case, it seems like the final Gorillaz release may be "DoYaThing", the Converse track that also featured James Murphy and Andre 3000. But for those looking for more of Albarn, even without Blur or Gorillaz, 2012 should still be a fine year of great music from the multitasker.
Check out "Under The Westway" and "DoYaThing" below from Blur and Gorillaz, respectively.
Got news tips for Paste? Email news@pastemagazine.com.
Others Tagged With