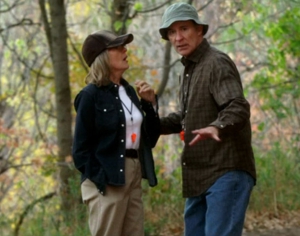 Lawrence Kasdan's Darling Companion, which he co-wrote with his wife Meg, is a perfectly serviceable family drama centered on a dog. It's unclear, however, who its audience is. Although it features an animal, which is typically kid territory, it's too long and slow for a young audience. (Besides, it's rated PG-13.) And although it does deal with adult issues like empty nest syndrome and professional ageism, it doesn't do so very seriously. It might be a safe bet for your mom's movie group because, well, it plays it safe.
One can feel the good intentions with which Darling Companion was made, as the Kasdans based it on their own experience of losing their mutt in the Colorado Rockies. In the film, Beth (Diane Keaton) is struggling with having no one to mother—one of her daughters lives in New York with her husband and child; the other, Grace (Elisabeth Moss), is in grad school—when she rescues a dog abandoned on the side of the highway. She names him Freeway, and, despite objections from her grumpy surgeon husband Joseph (Kevin Kline), takes him home.
A year later, Grace marries their vet at the family's home in the mountains, and as the two newlyweds head to their honeymoon, Beth, Joseph and a few guests relax at the house for the weekend. The guests include Joseph's sister Penny (Dianne Wiest) and her aggressively friendly date Russell (Richard Jenkins), who has a questionable business proposition for the group; Penny's son Bryan (Mark Duplass), who is also a surgeon and works with Joseph; and the gypsy housekeeper Carmen (Ayelet Zurer), who claims mysterious powers to "find" things. When Joseph loses Freeway during a walk in the woods, Beth won't leave without her beloved pet.
The search that follows provides an opportunity for quarreling pairs of family members to reconnect while they look for Freeway: Both Joseph and Bryan are given the opportunity to get to know Russell better and learn he's a decent guy, while Joseph and Beth, driven apart by the clash between his cold pragmatism and her emotional sensitivity, bond over the course of a cold, rainy night lost in the woods.
Throughout, the film is lightly humorous, and issues of late middle age are touched on but not explored. The Kasdans have produced a confection, but a bland one.
Director: Lawrence Kasdan
Writers: Meg Kasdan & Lawrence Kasdan
Starring: Diane Keaton, Kevin Kline, Dianne Wiest, Richard Jenkins, Elisabeth Moss, Mark Duplass, Ayelet Zurer, Sam Shepard
Release Date: Apr. 20, 2012
Others Tagged With