Amanda Palmer Announces New Solo Album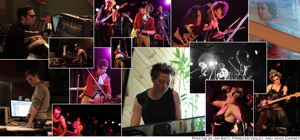 Singer, composer and occasional comic book conceptualizer Amanda Palmer has announced that she's working on her next solo album. The songwriter already finished recording with The Grand Theft Orchestra in Australia, and now Palmer is currently working with producer John Congleton (St. Vincent, Murder By Death, Modest Mouse) in Dallas, Texas.
As Palmer wrote in a self-penned press release, "it's hard to describe what the record sounds like….but take my first solo album (who killed amanda palmer), both dresden dolls' records, add in a lot of mid-era cure and depeche mode, sprinkle on the cars greatest hits and some gary numan, then add a layer of my bloody valentine and swans and you've got a vague idea. it's LOUD. it's BIG. and it's totally awesome. it'll come out to the general public this septemberish."
Although Palmer didn't mention an album title, she did say that in a couple weeks, she'll launch a Kickstarter campaign with a number of options for pre-odering the new record. Palmer also noted that the limited edition options will include additional artwork, fancier packaging and bonus content. "this stuff will NEVER be available in stores or online again," she wrote. "welcome to the future"
Stream or download Amanda Palmer & The Grand Theft Orchestra's haunting cover of the Nirvana song "Polly" below or pick up the 7" single on Record Store Day.
Got news tips for Paste? Email news@pastemagazine.com.
Others Tagged With