Horse Feathers: Cynic's New Year
[Kill Rock Stars]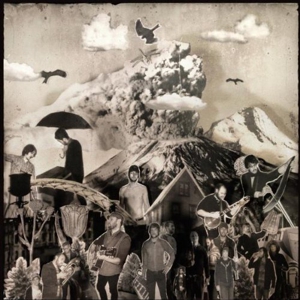 Justin Ringle and his band of merry musicians collectively known as Horse Feathers have put forth a very inspiring baroque pop album for their fourth release. Cynic's New Year is filled with layer upon layer of instruments, allowing the band a grander scale that presents the band as a happy-go-lucky Oregon band. Yet, if you listen beyond the slides, horns and whistles and bells, there is a murky undertone hiding in Ringle's lyrics.
It's not to say it's on the level of Fleet Foxes' Helplessness Blues, but it's pretty damn close. This album also leaves you pondering deep questions about your place in the world, but also provides a crutch to lean on with soft, subtle nods towards the positive horizon.
The album opens with the stark and minimal "A Heart Arcane" and builds from there. Each song may be overtly ballad-y, but there is an argument that each could also be called an anthem. So many folksy Americana bands provide foot-stomping and playful songs, but Horse Feathers refrain from going there. They make you think about each component in a song and once you master the complexity then it's time to find the meaning behind the words playfully dancing over the swooping instrumentation.
"Fit Against the Country" is another standout that comes halfway through the album. Whether it's the enchanting strings or the rustic drums, the song is the most playful on the album. Ringle's soft voice and lyrics, which have already been compared to those of an aspiring Nick Drake, are no more or less important than the intricate compositions, and it is on this song where you truly understand that he has the desire to blend into the mix.
Horse Feathers are certainly on the right path towards becoming a premier force in not only the Northwest folk scene, but the entire country as a whole. They're one of the rare bands that can produce meaningful lyrics alongside wonderful music while not relying on any quirky characteristics.
Others Tagged With