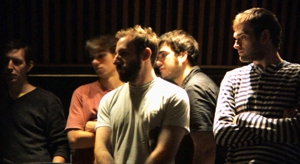 Oz, the wizard, seemed great and powerful indeed—until Dorothy looked behind the curtain. She found the Goldbergian machines that made a voice echo and flames leap. Certainly, she and her fellow pilgrims were helped by Oz, but I have always wondered if Dorothy regretted exposing the deus ex machina.
A good film—and a good band, for that matter—can be much like Baum's smoke-billowing wizard. If everything goes just right, if the curtain doesn't get pulled back, then the audience can find itself part of a great and powerful experience. That said, in How To Grow A Band, director Mark Meatto proves that, sometimes, a look behind the curtain can yield just as amazing of an experience.
Meatto followed the folk-formal-fusion-but-don't-you dare-call-it-bluegrass band Punch Brothers for two years: on tour, in studio, on the street, in the living room, in comfort and in flux. The portrait of the band that emerges is clear and precise. We come to know the band so well that the music is comfortingly familiar by film's end; we come to the know the band members so well that we can hear each individual personality filter through each song. And that's what How To Grow A Band is really about. Meatto shows us how five virtuosos come together to take traditional music in a new direction. Chris Thile, late of Nickel Creek and one of the best mandolin players on Earth, is the leader of the band. Thile's father, a bluegrass musician, handed young Chris a mandolin at age 5. He won the national mandolin championship at age 12. On guitar is Chris Eldridge, son of legendary newgrass banjoist Ben Eldridge. Veteran session fiddler Gabe Wichter carries the melody, and award-winning banjoist Noam Pikelny, a protégé of Tony Trischka, moves effortlessly between lead, background and chuck-percussion. Veteran bluegrass bassist Greg Garrison handles the foundations, though he leaves the band before the film's end and is replaced by Paul Kowert. The line-up is arguably one of the most accomplished acoustic roots-music bands ever assembled. With this musical powerhouse, director Meatto had the option of just following the band and presenting his audience with excellent music in interesting venues, allowing viewers to watch the band become tighter and more cohesive over time. Instead, he treats the band as a character in and of itself—with its own personality and idiosyncrasies, up days and down days, energy and exhaustion. His approach makes How To Grow A Band far more than a run-of-the-mill concert documentary. Even more impressive, Meatto does it all so smoothly that it appears effortless. Behind the curtain, there is technical expertise, there is sweat and hard work. On screen, there is Punch Brothers, the band. The movie-making is simply not apparent.
As a concept, Punch Brothers grew out of Chris Thile's gut-ripping divorce. His writing had become darker and more serious, and was quickly moving away from his bluegrass roots in his compositions. He assembled the band by dangling an irresistible carrot: the opportunity to explore a fusion of folk-roots music and classical form. The musical direction of the band would be decided by consensus, not decree. And no genre, from Beethoven to pop, was off limits. The band would be free to explore any concept and run with the best ideas. What resulted was a four-movement suite unlike anything the bluegrass and folk community had heard before, entitled The Blind Leaving the Blind. Heart-wrenchingly raw, the 40-minute composition defies categorizing—Thile has reluctantly called it "chambergrass." The film is organized around the four movements, and by film's end we have heard the entire composition. (Thile insists that the piece be performed without sheet music, which accents virtuosity and technical excellence while encouraging improvisation in pre-selected passages.) The tour supporting the piece, the album Punch that would center around it, and a second album, Antifogmatic, that would grow from it, began in Glasgow, Scotland, where audiences were less than enthusiastic. The new forms Punch Brothers presented were confusing, not always melodic, and their dark, depressing subject matter did not uplift an audience expecting a new twist on bluegrass. From early 2008 to late 2009, the band looked critically at their performances, improving technically and growing musically. By the time they hit New York City, they were selling out such venerable venues as Lincoln Center, even as they continued to explore musical possibilities with a monthly residence at The Living Room, a club in New York City.
Meatto is careful to give the audience more than concert footage. There's commentary by such heavyweights as cellist Yo Yo Ma and John Paul Jones of Led Zeppelin (himself an accomplished mandolin player). We see rehearsals and jam sessions in Thile's tiny living room and on hotel patios. Meatto also reminds us of the gritty truths of touring—tiny dressing rooms stained with graffiti, miles covered by mini-van, and the endless details of promotion and marketing. One especially poignant scene shows Witcher ironing a shirt in a tiny, unlit room, next to a bank of mop-sinks. This scene alone quashes any idea that touring with an up-and-coming band is a glamorous undertaking. The film is evenly paced, seamlessly edited, visually rich and musically exceptional.
Just as the Wizard of Oz knew that he could get Dorothy home whether or not his illusions were believed, Mark Meatto's How To Grow A Band is masterful filmmaking that takes the audience where they need to go. There's no need to pull back the curtain—just sit back and enjoy the show. While Punch Brothers are playing, you're definitely not in Kansas anymore.
Director: Mark Meatto
Starring: Chris Thile, Chris Eldridge, Noam Pikelny, Gabe Witcher, Greg Garrison, Paul Kowert
Release Date: Apr. 13, 2011
Others Tagged With