Rocky Votolato: Television of Saints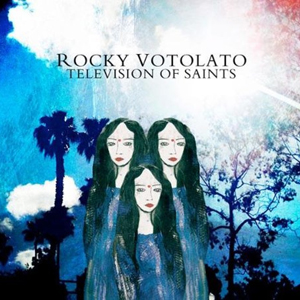 Rocky Votolato does simple well. He's proved it since his breakthrough Barsuk-released album in 2006 with Makers, and he's working with the format again on his ultra-lean new album, Television of Saints. The album marks the first time Votolato's been without a label since he joined with Barsuk, with the 10-track, 33-minute album receiving funds by the way of Kickstarter donations to the singer. The album was funded Dec. 15, and to date Votolato has received $38,225 for the album from backers.
When you consider what that kind of budget means when compared to much bigger, multi-million dollar albums, it's impressive what Votolato did with it. Leaning mostly on his own guitar and vocal performances, the album is a quick and to-the-point chunk of tracks that capture Votolato at an accessible, not-so-heavy period in his career.
Produced by Casey Foubert, who has worked with Sufjan Stevens and Pedro the Lion, the no-frills album captures performances from Votolato that only time and experience could have pulled from him. Compared to the singer/songwriter that appeared on Makers close to seven years ago, Votolato is performing with an unshaken confidence that audiences haven't fully seen in him yet—it's almost like the label-free songwriter is trying to showcase what the distributors are missing out on.
But Television of Saints isn't without its weak spots. After repeat listens, it's clear that the concise album wouldn't be as listenable had it been extended by several tracks. Votolato's go-to melodies come dangerously close to repetitive throughout Television of Saints. It's most apparent in the I-swear-I-already-listened-to-this-song intro of "Writing Fiction" after already hearing "Fool's Gold"—both have near-identical chord progressions and similar melodies that kick off the song.
The album does see performances from guests, which include Votolato's siblings Cody—who played with The Blood Brothers and is currently a third of Telekinesis' touring act— and Sonny, who played guitar with Seattle band Slender Means. The guest contributions are satisfying enough on "Fool's Gold" and "Sunlight" to make you wonder if the rest of the album's stripped-down production wasn't a conscious decision, but one more focused on budget. The trade off is that the band-centered tracks that do appear on the album are sonically beautiful, with every layer and instrument sitting in its right place.
As the final notes of album closer "Crooked Arrows" ring out, Television should stand up as an ultimately satisfying, honest album that will catch plenty of new listeners' attention. But I'd love to see what the guy could do with those siblings of his backing him on an entire album.
Others Tagged With