Super Meat Boy in Development for iOS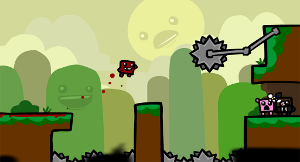 Looking for new and exciting ways to thoroughly destroy your iPhone? Good news! Team Meat has announced that a mobile version of its rage-inducing, incredibly frustrating PC/console hit Super Meat Boy is in development for iOS.
Super Meat Boy, the indie hit with more than a million copies sold, is a parody of traditional platformers taken to the extreme. The game, which features a lovable, if not slightly terrifying blob of hamburger meat traversing a world filled with perilous spikes, terrifying saw-blades and deadly needles, is known for its mercilessly hard gameplay, often resulting in thrown controllers and broken screens.
Team Meat said the game will be a new version of SMB developed specifically for iOS with touch screen controls in mind, not just "a shitty port of an existing game with non tactile buttons spread all over the screen blocking the players view and making for frustrating controls." Additionally, they say that the game is an entirely new creation, with new sounds, art and gameplay, while preserving the traditional SMB aspects you know and love.
The game is currently in the early stages of development, so don't expect a release any time soon. At least that gives us plenty of time to buy super-sturdy cases for our phones. In the mean time, check out the trailer for the original Super Meat Boy below:
Got news tips for Paste? Email news@pastemagazine.com.
Others Tagged With