Up All Night Review: "The Proposals" (Episode 1.24)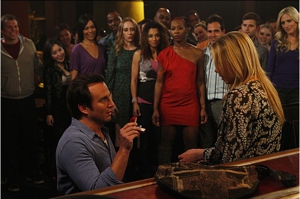 Up All Night's steady first season came to an end last night and it was a near-perfect capstone to the journey Chris and Reagan have taken since their baby changed their lives. This episode highlights what worked so well this season, and most importantly the show re-writes history.
"The Proposals" gives everyone a second chance, which may be the writers' subtle nod to NBC—who has yet to decide what shows will and will not be on the air next year—by saying this parenting show deserves another season. Even if I'm reading too much into the plot, it's a poignant episode that ends with one of the best on-screen proposals of all time. Of. All. Time.
It turns out that Chris never proposed to Reagan eight years ago. In a flashback, complete with Will Arnett sporting a Selleck-stache, we see that it was she that proposed to him. Now that she's lost her ring, Chris thinks it's a perfect time to re-write history by re-proposing the way he always wanted to. While their entire portion of the episode is building up to this, the episode offers sweet moments including an excited Chris glancing over at his daughter Amy. He says that she should look for a guy who is like him, but it's the nonverbal exchange between the father and daughter that makes scenes like this special.
Oh, and the amazing proposal that I mentioned earlier? All I will say is this: "Total Eclipse of the Heart." It's most definitely one of the series' top moments so far.
This episode also marks the return of Jason Lee's character Kevin. Turns out he still loves Ava and she may still love him. Usually shows are predictable when bringing back a former flame, but Up All Night doesn't really play by the rules. It turns out that Ava's on-again off-again Euro-fabulous boyfriend is the one who makes things right. His broken English and absurd way of thinking was a good shtick at first, but it has grown into much needed comic relief when the other characters cannot provide it.
The season ends in a solid place. Kevin is around, but Ava didn't accept his proposal. This means that Jason Lee might be able to sign on as a series regular, which is what I've not-so-secretly been hoping for since he first appeared. Chris and Reagan are in a happy place, not that they weren't ever in a bad place for more than half an episode, and their baby is old enough to start playing a vital role in their lives.
If one new comedy was the most underrated this season, it most definitely was Up All Night. Here's hoping it gets picked up for a second season.
Others Tagged With