Aaron Freeman Says Ween is Done
"I'm retiring Gene Ween."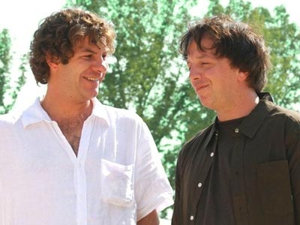 After a 25-year run, experimental rock outfit Ween has decided to call it quits. Lead guitarist Aaron Freeman (formerly known as Gene Ween) stated in an interview with Rolling Stone that after eight years of breakup considerations, the band finally made the decision to part ways.
"For me it's a closed book," he said about the band's future. "In life sometimes, in the universe, you have to close some doors to have others open."
In the interview, Freeman stated that the band was still on speaking terms, and there is no animosity between members of the group.
The partnership of Freeman and high-school pal Mickey Melchiondo (or Dean Ween) was formed in the mid-eighties. They first broke out on MTV with their video for "Push Th' Little Daisies" from their major label debut Pure Guava in 1992, and despite a prediction from Butthead (of the MTV series Beavis and Butthead) that "these guys have no future," they went on to release eleven full-length albums over the course of their career.
Freeman had a short stint in rehab in Arizona after an on-stage meltdown last year in Vancouver. He released his solo debut Marvelous Clouds, a collection of covers from Frank Sinatra songwriter Rod McKuen, earlier this month. Of working on the album, Freeman told Rolling Stone "It's a nice recovery record, definitely." Freeman is expected to start work on an album of original songs.
Got news tips for Paste? Email news@pastemagazine.com.
Others Tagged With